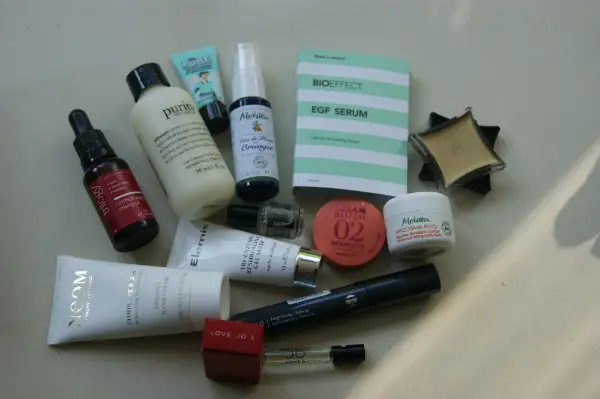 NB: Before you read on, this box has now sold out. 
..or if you like, the BBBBB! So, finally this is ready: I've been dying to tell but everything had to be finalised before I could say anything. Before there is a collective sigh of 'oh, no.. not another beauty box', I can assure you I am not going into the business of beauty boxes. There are enough people doing that already. But, I was curious to go through the process of compiling a box that was heartfelt and meaningful, as well as better value than other offerings.
It's not a box of random stuff: all fourteen products are things I genuinely love and use. Some are daily staples, some are regular treats but without exception there is nothing I wouldn't gladly recommend. I've done a Vlog about the products HERE.
As you can see the products range in size from small and perfectly formed, generous sample sizes to full retail size and I hope that it gives you a good overview of the things that I love. And, you can get all of them in your carry-on holiday luggage!
It's certainly been an adventure and a priviledge: some of the brands have never been in beauty boxes before and those that have are selective. It's better than I could have hoped it would be.
So, I've tried to keep the costs as low as possible – that was an adventure in itself. I decided you don't need ribbons or glamorous packaging so it's pared back and simple, but as well as the products, many brands are popping in offers and discounts and that weighs more – I'm a slave to my postal scales! I've also, as you can see, opted to take my own pics rather than have the box professionally shot and incur more costs. There are 14 samples and the box is £15 with P&P costing £4.55 on a three day delivery (rather than next day which is vastly more expensive). We tried every which way to make this a viable order for ROI and abroad but everywhere we tried quoted over £11 for delivery (up to £31!!) so this is UK only on this occasion.
So, what's in the BBB Edit Beauty Box? In no particular order:
Lanolips (full size). I've raved about this since the first day I used it. I genuinely don't leave the house without it and it has completely banished my dry lips.
BioEffect EGF Serum 2.5ml. I used BioEffect one evening for the first time and had a bit of a wow moment when I saw my glowing skin the next day.
Bourjois Cream Blusher (Full Size, Colours may vary). Another rave, rave, rave. I love the slip of this lighter-than-air brush that makes it so easy to apply and the fact that this shade just brings your face to life. #bourjoiscremeblush
CND Solar Oil (Pinkie size). This nutritious nail oil is something of a legend; I can't count the number of nail artists who have recommended it and I keep a big bottle of it by my bed. With regular use it will give you strong, flexible, nourished nails and easy to maintain cuticles. #lovesolaroil
Melvita Orange Blossom Floral Water 28ml and Melvita Apicosma Ultra Nourishing Body Balm 15ml. I've yet to find something from Melvita I don't like – it just has beautifully constructed formulas that are gentle and effective. It doesn't cost the earth (literally – it's a highly eco-conscious brand) and yet behaves as though it costs twice the price. #beehappybbbeditbox
Benefit Porefessional 7.5ml. Porefessional is no smoke and mirror product… it really does offer a buffer that hides pores under foundation. It's a perfecting product and that's exactly what it does – perfect the skin.
Philosophy Purity 3-in-1 Cleanser for Face & Eyes 30ml. A new discovery for me that I'm absolutely hooked on. It gives a beautiful wet cleanse that feels somewhere between a wash and an oil. There's no doubt that my skin feels completely clean, but importantly, not stripped after use.
Elemis Tri Enzyme Resurfacing Gel Mask 15ml. This was the first enzyme exfoliating mask I ever tried and I turn to it regularly for a proper skin pep. Instead of harsh grains, Tri Enzyme uses enzymes to get rid of old, dead skin cells that can make skin look dull. You can feel it tingle as it works, and afterwards, skin is simply silky. #trienzymegelmask
Trilogy Rosehip Face Oil (20ml) I'm a big fan of facial oils and Rosehip is something of a modern legend in its ability to soften and smooth the skin overnight. It's a light, pliable oil that blends quickly into the skin (I sneak any residue onto my hands) and you will both see and feel the benefit.
NEOM Complete Bliss Moroccan Blush Rose Handcream (Travel Size, 50ml). Lovely NEOM. A big blogger favourite, NEOM products are soothing and indulgent and their hand cream is no different. It rubs in easily and quickly giving dry hands instant suppleness and hydration.
Illamasqua Liquid Metal in Electrum (full size). Illamasqua has a huge blogger following – bloggers 'discovered' Illamasqua and it's a brand that maintained its fan base by constantly reinventing the beauty rules. There's nothing not to love about this metallic cream shadow that applies so smoothly.
B. All Lengthening, Defining & Volumising Mascara (full size). B. at Superdrug is such a good value range; the quality is all there and my favourites are B foundations and mascaras which I use on my bottom lashes (extensions up top!).
Jo Loves Pomelo (Sample Size, 2ml). This is a great opportunity to sample what Jo Malone did next! It's my favourite fragrance in the world and I'm happy every time I wear it. #joloves
Offers: Several brands have special limited time offers for BBB Edit Box customers; from 20% off Elemis to 10% off Benefit and many others in between.
I hope you feel tempted by this – there are only 500 of the BBB Edit boxes, with an approximate value of £125 of contents, and then that's it – no more! I'll be using various hashtags on Twitter so please look out for them and if you love a particular product let me know and hashtag in your favourite! Your feedback is more than welcome and if you decide to do a blog review on any of the products, please let me know! Go HERE to purchase.
Transparency Disclosure
All products are sent to me as samples from brands and agencies unless otherwise stated. Affiliate links may be used. Posts are not affiliate driven.