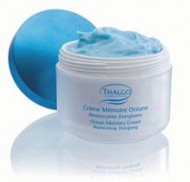 Personally, I find it quite hard to justify really splashing out on body creams when there are so many good ones on the market that don't cost a bomb (ahem, I am forgetting for a little while my penchant for Sisley Confort Extreme Body Creme that is £73 – it's a very long time since I bought any but still swear it will out-moisturise any other creams on the market) – it's the ones that hover at around £20 or so that confuse me most – usually they aren't bringing much to the moisturising party that cheaper ones aren't but are an add on to an extensive bath and body range (Bliss and Molton Brown spring to mind). However, I feel a little differently about Thalgo Ocean Memory Body Cream even though it hovers at around £42 in price. They say it '..enables you to experience the unique sensation of a return to the origins of the ocean.' Er, I don't even know what that means. They continue, '..it releases the energy of thousand year old micro-algae into the heart of the cells…your skin is revitalised, incredibly soft and hydrated.' Ok, I will put aside all the stuff about thousand year old micro-algae although I don't doubt it contains it, but more because I'm not sure that a younger vintage of algae wouldn't do exactly the same in terms of nutrient delivery. I've got to admit though, it is a sensorial experience – the cream is a cooling gel-cream that leaves skin absolutely silky soft – I put some on about an hour ago and my skin still feels softened. It's incredibly lightly scented – no whiffy shea butter shenanigans in this baby -and the vague scent there is is refreshing. It feels and behaves like a proper treat for the skin, and for that I don't mind paying. It would be the cream I use as a special treat before a night out or when I just want to feel properly pampered. Is it any better in terms of hydrating than a bottle of Aveeno for example? The honest answer is that I don't know – it uses different ingredients, certainly, and is way lighter in consistency for an equally hydrating result. But, the bottom line is that I like it, and if those ancient micro-algaes are doing something good for my skin, then so much the better.
Transparency Disclosure
All products are sent to me as samples from brands and agencies unless otherwise stated. Affiliate links may be used. Posts are not affiliate driven.