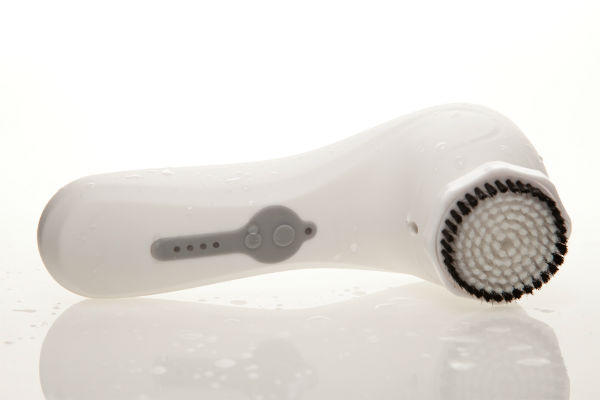 I've got another testing opportunity – it's for my readers and bloggers. Magnitone Pulsar, a new daily skin cleansing and toning brush for use on the face and body. They are looking for ten people, including grooming or beauty bloggers, to test run their product and give genuine feedback.
I recommended Magnitone Pulsar to a friend to buy her sister for Christmas, because she didn't want to spend the amount that other cleansing brushes  cost (yes, you know who I mean!). She's had almost two weeks use out of it and it's her opinion that made me look twice at this product, because she is reporting visibly softer, smoother and clearer skin – and my friend confirms this. I'd rather listen to real user feedback than any press release. So, I'm starting to use it myself. However, in the meantime, Magnitone Pulsar wants real reviews – and completely honest ones at that. So they're calling out via BBB for ten testers in the UK to give feedback.
A little bit about the Magnitone Pulsar so you know all about it before you decide to apply (I'll take the first ten for fairness sake). It's a gentle daily cleansing brush, which you use with your regular cleansers, to help you get softer, smoother, clearer and fresher skin and they claim that this can happen in 7 days, which supports my friend's view. With it's changeable brush heads, you can not only focus the face but also exfoliate the body more gently for silkier arms and legs. It moves at over 15,000 pulsed oscillations per minute and has several settings; Deep Clean, Exfoliate, Sensitive and PulseLift Massage (which stimulates the skin in to boost circulation and help with natural collagen synthesis). Magnitone Pulsar is also indicated in helping reduce razor rash and waxing irritations. It uses gentle Active Electromagnetic Technology, which marks it out from other cleansing brushes. If you'd like to give it a try, just email me at britishbeautyblogger@gmail.com.
So, now the small print.
The purpose of BBB trial call outs is to give genuine feedback to brands who want real reader reviews; therefore unless you are genuinely committed to trialling the product as per user guidelines and offering honest reviews, please don't apply.
You will be asked for your opinion via email and although it's not a requirement, it's hoped that you will be able to blog and vblog about the product.
Magnitone may ask to use some of your feedback on their Facebook page and other social channels and will link to your site so that other readers can see your views as well.
Your details will be passed to Magnitone Pulsar who will not use any of your data for anything other than what has been outlined.
It is natural for skin to purge when you start to use Magnitone Pulsar, but if you if you have any adverse reactions, you should stop using it. Also, people with pacemakers should not use this product.
Offer: Magnitone Pulsar available from £129.99 to £64.99 (50% off) with Free P&P, valid until 17th February 2014 using code BBBLOG. HERE.
This is a UK only call-out.
*Sponsored Post
Transparency Disclosure
All products are sent to me as samples from brands and agencies unless otherwise stated. Affiliate links may be used. Posts are not affiliate driven.