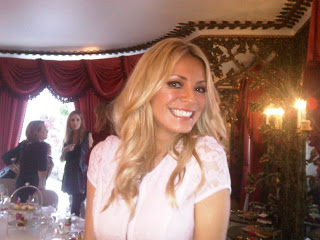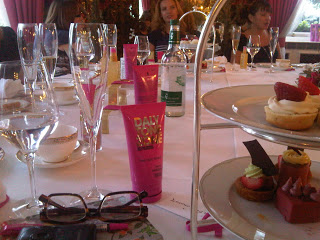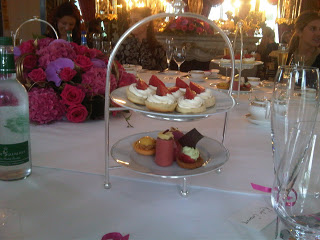 Tess Daly's range for M&S has been a spectacular success so far – the Daily Face glow sold out twice when it was first launched. But, now it seems every beauty product has a celebrity behind it and some are clearlt more involved than others. I remember going to a (minor) celebrity fragrance launch and despite about a hundred press releases professing that the celebrity was 'deeply involved' in picking the ingredients, the celeb couldn't actually remember what was in it. Hmmm. So, I'm always a little bit cynical when a product is 'made by a sleb'.
I had tea with Tess Daly today to launch her new skincare range for Tess Daly Beauty at Marks & Spencer. I surprised myself by being a tad star struck and stuttering a bit before we actually got into a conversation. She is passionate about the range but she's not kidding anyone that she's mixing it up in the lab, hovering over ever single ingredient that's droppered into the bottles. What she does do though, is be very specific about what she wants, and tests, tests and tests until she gets it. I loved the fact that she totally shares my horror of chunks of glitter in products and knows perfectly well that there is a way difference between glowy skin and tinsel-face. So, the product I picked up and instantly loved isn't actually a new one; it's the Daly Body Sheen Silky Finish Highlighting Balm, £15, that smells, well, lovely actually. With a blend of jasmine and vanilla for fragrance, you won't find a single glitter shard in this; it's a sheen and no more. But, it is a beautiful sheen that does give skin a truly glowy finish. From the new range, I also liked Daly Light, £9.50, to highlight the face. It has the same sheer finish as Body Sheen, but in a formula that is more appropriate for the face, and acts like an illuminating veil, in a way that is as good as, if not better, than more pricy counterparts. Lastly, I liked Daly Tint, £12; a tinted moisturiser giving sheer coverage. It's not quite coverage enough for me but can see it being a brilliant mixer for foundation when you need something to rev up the glow.
While there are a couple of other new products – a night cream called Daly Repair, £12, and day cream, Daly Protect, £12 – I didn't get a chance to test those out properly – a dab on the hand doesn't tell you anything much really.
But, what was striking about Tess was that, confronted with 12 beauty journalists and writers, she still managed to get stuck into general chat after telling us about her range. We talked nails, kids and Strictly, ate cream scones (she had half!) and we even talked about blogging – 'It's the future', she said. She was funny about the Daly Legs cream in which her own legs are pictured (and airbrushed) and isn't sure that she is looking forward to the future launch of her bum toning cream because it will be her own bottom staring out from the shelves of M&S – that's got to be un-nerving!
Transparency Disclosure
All products are sent to me as samples from brands and agencies unless otherwise stated. Affiliate links may be used. Posts are not affiliate driven.