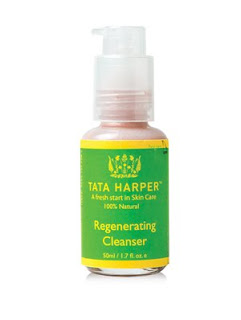 The American press is all over Tata Harper; formerly a industrial engineer, who was inspired to make an all natural line after her father was diagnosed with cancer and didn't want to take in any more chemicals via skin products, quite understandably. Columbian born Harper grows many ingredients on her farm in Vermont, where the products are made.


I've recently tried a couple of products and despite truly wanting to love them, I found them distinctly average. It's a tricky one: natural and organic brands are made for all the right reasons but personally, I don't think they deliver to a level that is exceptional. In fact, I sense a shift away from organics and natural products now, not only on price terms, because they do tend to be expensive (a 50ml cleanser from Tata Harper is £40), but also because they're just, not, er, very good compared to non-natural products. There, I said it out loud. So, I may as well continue. The Tata Harper Cleanser was fine; it didn't give a squeaky clean cleanse, but it did clean my skin. But fine isn't exceptional. When I first used Omorovisca cleanser, I was blown away..the same for Oskia. You could just tell they were exceptional performers that delivered over and above expectations. Tata Harper didn't. And if 'fine' is okay because you want to opt for natural above all other criteria, then knock yourself and your forty quid out. And telling your average cancer patient that it's going to cost £72 for a body oil (Tata Harper's Revitalizing Body Oil) to keep them 'healthier' is just not on.


I didn't like the packaging either. The Tata products come wrapped with a paper label that you pull away to reveal instructions. When I pulled mine away, it took most of the instructions with it! Lucky it was just the cleanser. 


I don't have an illness or anxieties over what chemicals are going into my body via my cleanser – maybe if I did, I'd think differently. But for me, the organic bubble has well and truly burst and I'm just not up for shelling out on products that don't perform as well, or better, than non organics. I feel rather differently about sustainable and recycled packaging – there are many beauty brands that could take a leaf out of the organic sector's book and start being more consciencious about their packaging as well as leaving out half the leaflets that nobody reads anyway. It's just pure laziness on the brand's part to print instructions in every language known to man and shovel the whole thing in a box when that's really not necessary. I don't need to know in Chinese how it works, so why not just print a smaller leaflet in the language of where it is sold. Massive paper saving.


If an organic product does perform as well as another non counterpart, and the price difference is minimal, maybe I'd choose the organic option, but not necessarily. If it really felt so vital to be entirely chemical free, then I'd be living in Alaska in a yurt.


 
Transparency Disclosure
All products are sent to me as samples from brands and agencies unless otherwise stated. Affiliate links may be used. Posts are not affiliate driven.