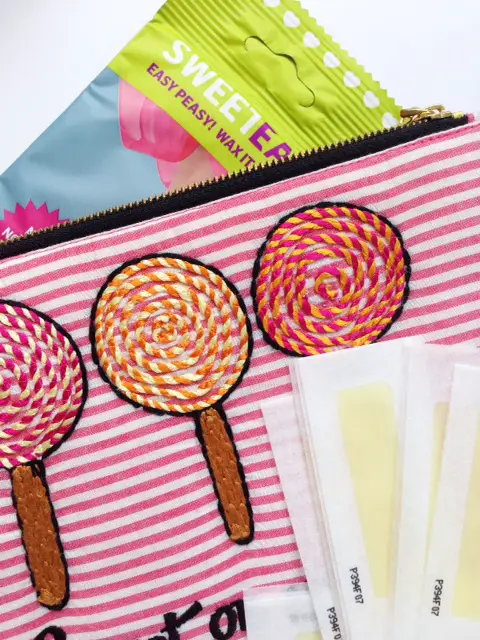 Confession: I am an avid strip waxer. I hate going to waxing salons, I hate liquid home wax for being too messy and fiddly and I don't much like shaving either. I'm lucky that thanks to various home laser treatments, the hair on my legs is much less than it was, so I am not waxing out caveman style growth or density. Strips are just so, so easy, except when they get stuck to my dogs, which has happened. The poodles hate strip wax.
The trick with any strips is to make sure they're not too cold and also that your skin is well exfoliated first, otherwise the first 'strip' is awash with dead skin cells. If  you have sensitive skin, do this at least a day before so you don't end up with red legs! There's no going around the fact that facial waxing is a total chore but when that tash has to go, it has to go. One of the Irish bloggers – and I can't remember who – was talking the other day about whether your moustache springs to life when you put on foundation – YES! This happens! It always hurts to remove it no matter what, but little strips make life much easier. Actually, facial waxing strips didn't used to exist – you could only ever buy the big leg ones and have to cut them down or do some precarious action with a full strip, invariably ending up with losing half the skin on your lips.
Back to Sweetease Wax – designed for first time and beginner waxers (hence the vanilla scent, I guess, but let me say right now that the scent doesn't make it hurt less!) the formula of the wax is very soft – more of a cream-wax than a hard wax. It's a good price point too, compared to other strip waxes with prices between £3.99 and £4.99. The strips haven't made it to the Superdrug website yet but they're all in store now.
Transparency Disclosure
All products are sent to me as samples from brands and agencies unless otherwise stated. Affiliate links may be used. Posts are not affiliate driven.