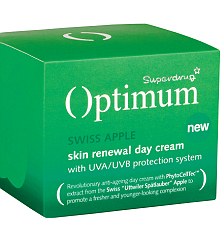 A big thank you to Alison (http://50isfab.blogspot.com/) for the following brilliant review of Swiss Apple. 
I'm not sure how I missed hearing about the launch last August of Optimum Swiss Apple Overnight Skin Renewal Serum by U.K. retailer, Superdrug. But I know about it now, along with the introduction this month (March 7th to be exact) of it's sister product, Optimum Swiss Apple Skin Renewal Day Cream. I recently I had the opportunity to give both products a three week trial.
The serum and the day cream are the product of technology that replicates the cells of a nearly extinct variety of apple. This particular variety was famous for storing for long periods without shrivelling, and it's unpicked fruit and tree bark, when punctured, appeared to heal itself. You can't help but wonder how someone made the connection between this apple and your skin.
28 day clinical trials with women aged 37 to 64, showed significant visible wrinkle decrease in all the participants. Thats 100%, which is impressive to say the least.
The day cream is light in texture, smoothed on well and absorbed quickly. I really like that it leaves that slightly powdery feel to the surface of the skin. That usually suggests a product has mattifying properties, and this is the case with Swiss Apple day cream. It also claims to help minimise pores; a bit of a problem area for me on my nose and the skin along the nose-side of my cheeks. I can't say I had a significantly noticeable improvement there, but at the same time it didn't make it worse.
The Swiss Apple overnight skin renewal serum has that slightly milky look common to most serums. My skin drank it up and, like the day cream, it had that lovely powdery after-feel. I made a point of concentrating the serum on my laugh lines (I refuse to call them crow's feet,after all aren't laugh lines the best kind?), around my mouth and along the jawline.
Does it smell like apples? Yes, but not strongly so and it doesn't last. Think about the pleasant fragrance your nose picks up while you peel a fresh apple. It's like that.
All packaging is light-weight and recycleable and the products are BUAV approved, that is bunny friendly. Two more points in favour of!
RESULTS
Let me start by sayting that at 52, I probably have fewer lines than many women the same age who, like me, aren't taking the road to injections and other cosmetic procedures. But time is catching up and I can honestly say that while the lines and surface wrinkles I do have didn't disappear by using these products, they were definitely softer and less noticeable. Even better,I haven't detected any new ones trying to take up residence. My skin has a nice, fresh look that lets me get away with less make up than I might normally wear. And when made up, that freshness shows through. This is important in my view. To me, cosmetics are like the icing on a cake; what's underneath has to be good or the whole thing fails.
One thing neither product addressed for me was the problem of slackening. Especially around the eyes and jawline. Gravity does more than keep your feet attached to ground. You eventually get to the age where it starts sending most things south. However to be fair, the Swiss Apple range makes no claims in this respect.
AND THE WINNER IS …….
The Swiss Apple skin renewal day cream is a pleasure to use and makes an excellent base for make up. Until May 11th it retails at just £9.99. After that the price moves up to £12.99. With day creams now averaging £20.00 and up, this one is brilliant value for your money.
However, if I were to buy just one product from the range as it now exists, it would be the Swiss Apple overnight skin renewal serum. Sleep is a great restorative and a treatment that truly pampers your skin while it's resting is worth investing in. At just under £15.00, this serum delivers on it's promises without beating up your budget. I would love to see a matching night cream introduced to go with the serum (hint, hint).
Transparency Disclosure
All products are sent to me as samples from brands and agencies unless otherwise stated. Affiliate links may be used. Posts are not affiliate driven.