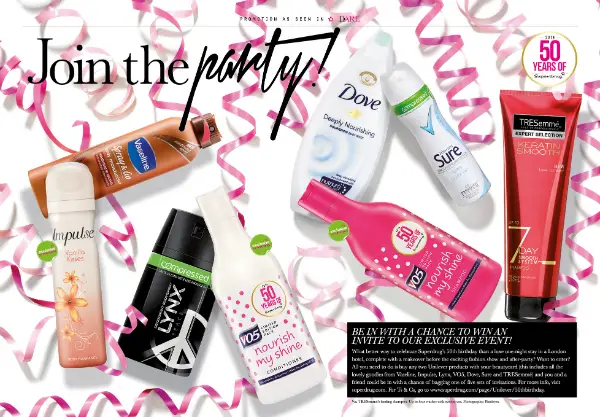 Love a summer party? Well, so does Unilever. They're holding the glammest beauty bash of all glam beauty bashes is on the 10th June this year to help Superdrug celebrate their 50th Birthday!
It's all pretty simple; if you buy 2 Unilever products and you swipe your Superdrug Beauty Card, you'll be automatically entered into a competition to win tickets to the Exclusive Event. This is no ordinary party – a little bird has whispered that there will also be a fashion show and opportunities to get the looks worn by the models. 
You're not expected to do this alone! If you're the winner of the tickets to the Superdrug 50th Birthday Experience, you can bring a friend or partner, and Unilever will treat you both to a night's stay in a London hotel and given a goodie bag filled with their products to take home. You'll also be given the celebrity treatment with a make-over – hair, nails and make-up!
So, if you need to stock up on your beauty treats, do it before the 6th of May.  A simple swipe of your Beauty Card could turn into a magical beauty experience! There are five pairs of tickets to be won.
Terms and Conditions:
1.         The Superdrug 50th Birthday Exclusive Event Hosted By Unilever prize draw (the "Prize Draw") is open to registered Superdrug Beautycard holders in Great Britain (excluding Northern Ireland) aged 18 and over, except employees of Superdrug Stores plc ("Superdrug") or any related companies, Unilever UK Limited, their families, agents or anyone professionally connected with the Prize Draw.
2.         Beautycard holders can enter this prize draw automatically by purchasing any 2 qualifying Unilever products in one transaction instore with their registered Beautycard between 9th April 2014 and 6th May 2014. This Prize Draw is not available online at Superdrug.com.
3.         Qualifying purchase applies to all Unilever Personal Brands including (Lynx, Dove, Dove For Men, Radox, Vaseline, TRESemme, VO5, Matey, Impulse, Sure, Alberto Balsaam, St. Ives)  Excludes: Gift sets and Minis.
4.         Entries must be received and Beautycard must be registered by 23:59 on 6th May 2014.
5.         There is a limit of one entry per person. Multiple entries or entries that are delivered late are illegible, incomplete, damaged or otherwise not in accordance with these terms and conditions will not be accepted. Entries made through agents, third parties, organised groups or any entry duplication method will not be accepted. No entrant may win more than one prize.
6.         There will be 5 winners.  Each winner will receive 2 invite tickets to the Superdrug 50th Birthday Exlcusive Event Hosted by Unilever ("The Prize") on 10th June 2014.   This will include: 
a.         Travel to and from London, coverage for standard or 2nd class train from a Great Britain location for 2 adults.
b.         Overnight stay in a London hotel.
c.          Travel to and from hotel to venue.
d.         Hair Styling, Make up and nails including a before and after photo.
e.         Entry to the Exclusive Event Hosted by Unilever.
7.         Winners will be selected at random from all eligible entries by 13th May 2014 (1 week after closing date.)
8.         Winners will be notified by email/telephone using the details provided within 7 days of the closing date. Winners must claim their prize by 17:00 on 27th May 2014. If they do not do so, then Superdrug reserves the right to offer the prize to an alternative winner. Winners will be notified by email/telephone using the details provided within 7 days of the closing date.  Once the winner's details have been confirmed, Superdrug will give the winner's details to Unilever as provider of the prizes who will use the details only for the purpose of distributing the prizes. 
9.         No cash alternative is available prizes are non-transferable and non-refundable. 
10.       The winners and their companions must be available to travel and attend on 10th June 2014. 
11.       It is the winners' responsibility to organise and pay for their own expenses including (without limitation) travel, all food and beverages, spending money, telephone calls, personal items, merchandise and souvenirs, incidental costs, and any other costs, charges, taxes or expenses which may be incurred by the winner in claiming the Prize and which have not been set out in 6 above.
12.       The Prize is outside the control of Superdrug. Separate terms and conditions will apply to those attending the event and the venue – it is the winners' responsibility to comply with these terms and conditions.
13.       Any decision of Superdrug as to eligibility to take part in the Prize Draw or the result of the Prize Draw will be final and no correspondence will be entered into. Superdrug accepts no responsibility for entries that are incomplete, delayed, lost, damaged or illegible. 
14.       Images used are for visual purposes only. Alternative products or colours may be substituted for the items shown. Superdrug reserves the right (but is not obliged) to substitute an alternative to any of the Prizes of equal or greater value should circumstances make this necessary. 
15.       By entering the Prize Draw, all entrants agree that their personal data will be used by Superdrug in accordance with Superdrug's Privacy Policy (notwithstanding that the winner's data shall be shared with the parties referred to in clause 8 above to facilitate the distribution of the Prize). Unilever will not use the personal data for marketing purposes. The Privacy Policy can be found at www.superdrug.com/page/privacypolicy.
16.       Superdrug reserves the right to delay, postpone or cancel the Prize Draw. 
17.       A list of the winners' full names and counties will be available on request between 27th May 2014 and 24th June 2014 by sending an email to Beautycard@superdrug.com.
18.       The Prize Draw and these terms and conditions are subject to English law. Any disputes must be referred to the English Courts.
19.       Unilever may refuse to provide a prize, or seek its recovery, in the event of non-entitlement under these terms or an entrant's breach of these terms, fraud or dishonesty.
20.       Unilever is not responsible for any damage or loss caused to an entrant where such damage or loss is not reasonably foreseeable to the entrant and to Superdrug when the entrant agrees to these terms and conditions.
21.       Winners' companions must be aged 18 years and over.  All winners and their companions must provide evidence to the venue to verify identity and age to the venue on the day. Anybody failing to bring ID matching the name on their Confirmation as issued by Superdrug will not be admitted.
22.       Unilever reserves the right to ask for proof of age and evidence to verify methods of an entrant at any time and may use any lawful channels and methods available to carry out checks of any details provided. 
23.       Unilever reserves the right in its sole discretion to withhold delivery of the Prize until such proof of eligibility and identity has been confirmed.
24.       Entrants must retain their original receipt as proof of purchase.
*SPONSORED POST
Transparency Disclosure
All products are sent to me as samples from brands and agencies unless otherwise stated. Affiliate links may be used. Posts are not affiliate driven.