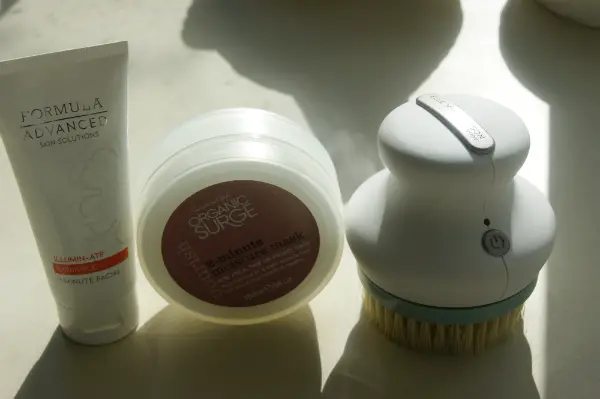 I usually have a little extra time on a Sunday to try out new things – so here's what I had a go at this morning.
Marks & Spencer Formula Advance 1 Minute Facial: The idea of one minute anything is pretty appealing when you are time short. This had an amazing write up in the Mail this week that sent sales through the roof. I would say this is more of an exfoliating mask – it does work within the allotted time – you leave it on for a minute and then massage the exfoliating grains in and wash off. However, the key component of this is Illumin-ATP which the Mail quotes: "ATP is the skin's power source, storing energy and transferring it to where it is required, giving cells an instantly available energy to power cellular processes such as metabolism and cell turnover." Hmm. So, that's the sell on the ATP. When I tested (bypassing such technical terms), it does leave skin with a lovely, smooth appearance after a minute- your make up will go on better and your skin will feel softer. Longer term (after a month), it will apparently make your skin look better. I think with this, you are either in it for the long-term or you are after a quick fix – I am happy with the quick fix! It's £15 and no surprise that it is sold out on-line.
Organic Surge 2 Minute Moisture Mask: It's awful that I got impatient within the two minute suggested time for this and washed off after about a minute and half (two minutes is just too brief to leave the shower for and too long to hang around doing nothing!) but it didn't even need the full two minutes to make my hair lush! It's a fantastic little mask for dry or dull hair – my hair genuinely is super-shiny today and I'm thrilled with it. It contains coconut oil which makes it smell divine. It's £6.99 HERE.
Elle McPherson Dry Body Brush: The bottom line with this rechargeable body brush is that nobody really, truly needs it. A manual body brush is a fraction of the price. But, oh, for lazy ladies like me, it's genius! I loved using it – it will absolutely whittle off every last flake of dry skin – as a rather eww evidence point, I used this while a shaft of sunlight came through the window – you could see every speck of skin dust, and while I thought my skin wasn't particularly dry, I was quite shocked at the cloud that emerged. My only caution on this is that the bristles are quite harsh – if you have sensitive or fragile skin I wouldn't recommend it, but otherwise, you will feel the difference straight away. Brilliant. It's £39.99 HERE.
Transparency Disclosure
All products are sent to me as samples from brands and agencies unless otherwise stated. Affiliate links may be used. Posts are not affiliate driven.