Today has been a really full-on day with four beauty launches. First up I went to a Superdrug launch at the Agua Spa at The Sanderson – in fact, now I think about it, I didn't, I mistakenly went to the Pucci one in the same hotel so had to back out pronto and tell them I was coming back in half an hour! The Agua Spa is a strange place…filled with whispy white curtains and taking centre stage is a bubbling silver water cauldron. Superdrug are launching a sister product to their Optimum Apple Stem Cell serum – a Skin Renewal Day Cream. What they say is that it contains the same apple stem cell wonder ingredient that way more expensive brands use (along with friend-to-the-crumpled, hyaluronic acid), only Superdrug sell theirs for £9.99 (that's an introductory price when it launches in March and will thereafter cost £12.99). I had a little test with some on my hand and it feels beautifully silky – really gorgeous – and if you'd told me it was a much more expensive cream I'd have easily believed it. Independent clinical trials suggest that after 4 weeks of use, you'll see a significant decrease in wrinkles.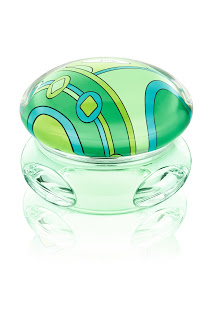 Pucci Vivara Variazioni Verdi 072
Then it was down to the ground floor of the Sanderson to see the new Pucci fragrance, Vivara Variazioni Verdi 072. Actually, it's very pretty – notes of mint leaf (and a gorgeous, fresh pot of growing mint in the goodie bag was a lovely touch – can't stop sniffing it!), bergamot, neroli, Turkish rose, cedar and Tonka bean absolute make it a gentle green – very wearable, but nothing to scare the horses. It's perfect for people who are scared by challenging fragrances and just want to smell fresh and pretty. Mostly though, I love the bottle!
More fragrance at One Marylebone with a whole host of summer scents to sample. The venue looked sublime – trellises with roses and garden tables adorned with cakes and vases of flowers.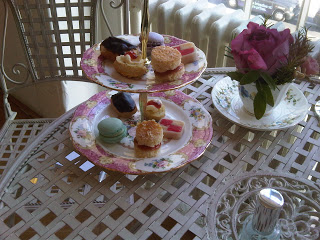 There are ALWAYS cakes!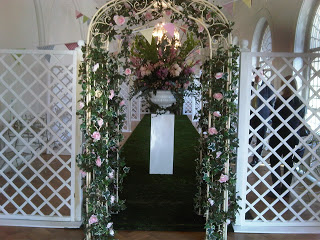 The venue with rose arches
Mahoosive flower arrangement!
Van Cleef & Arpels' new fragrance
Oscar de la Renta is back.
There, I smelled the delicious new Van Cleef & Arpels Un Air de First. I love First – my mum used to wear it as a 'special occasion' fragrance so I associate it with her looking all glam and ready to go out. This version is lighter with top notes of Galbanum essence, heart of Jasmine and Bulgarian rose essence with a base of Vetiver and Cosmone (no idea what that is, actually!). That launches in May, alongside Oscar de la Renta Esprit d'Oscar which I also loved, and A Scent By Issy Miyake summer version Neroli Sunshine, again a beautiful mix of Neroli and Tiare with notes of Jasmine and Hyacinth.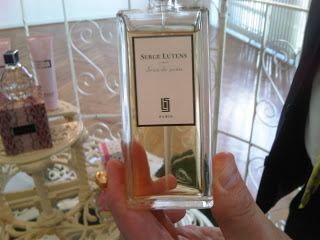 The bakery bottled
Lastly (although there were lots of other fragrances that I'll cover at a later date), I can't not mention the newest Serge Lutens Jeux de Peau. Serge never reveals the ingredients or notes, but this one smells like sweet bread – I have to admit, I actually recoiled when I sniffed it. Apparently, Serge finds the smell of bread embracing, which, I expect is maybe how a slice of ham might feel when it's stuffed into a sesame roll and that's no role model for a fragrance. It's really no different to walking through the bread aisle at Sainsbury's.
I'll quickly whizz through the Boots launch before this turns into the longest post of all time. I saw lovely Lisa Eldridge and her gorgeous make up for summer – the quad looks rather different at the moment – when it launches in store there will be a palm tree embossing across the colours which will liven it up nicely, and I tried a nail varnish that I hated on sight, but loved on the nail! It's called Golden Palms. There's also a full on red gloss that's caught my eye.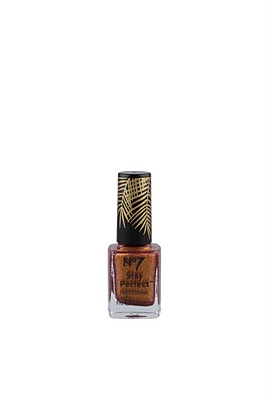 No 7 Golden Palms Nail Polish; a copper sparkle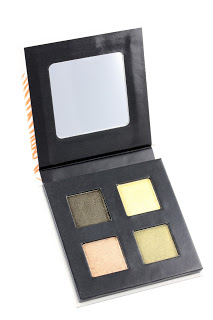 No 7 Sunset Metallic Eye Palette
Hello Lisa
I also met with Boots Scientific Advisor Mike Bell (genuinely didn't recognise him without his white coat!) who I met when I visited the Boots factory and it was lovely to see him again. I didn't have nearly enough time with him to talk about beauty creams and ingredients, but his latest invention is a cream for women aged 60+ called Restore & Renew.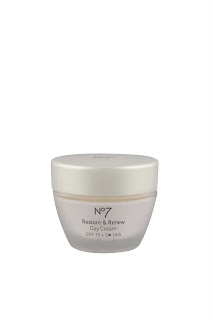 I feel really quite happy that at last somebody is making creams for very mature skin and not charging an arm and a leg for the 'privilege' of tackling the result of lack of oestrogen. When I asked what would happen if a woman whose skin wasn't aged used the cream, he said, 'They'd get spots'. LOVE that plain speaking that you so rarely find in the beauty industry.
Transparency Disclosure
All products are sent to me as samples from brands and agencies unless otherwise stated. Affiliate links may be used. Posts are not affiliate driven.