After two really bad nail breaks where my nails broke so far below the tips the breaks were in the pink bit, I couldn't cobble them together any more, so I went off to see nail wizard, David Barton.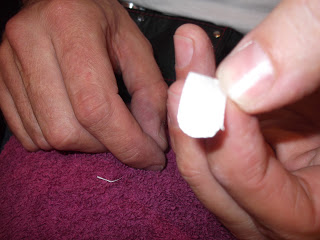 Fibre-glass nail mesh.
On one, the forefinger of my right hand, he put on a gel nail, carefully blending the gel more and more thinly down the nail so I won't get a ridge or obvious in-fill space, and on the other where the break was properly into the nail, he used fibre-glass mesh over the entire nail.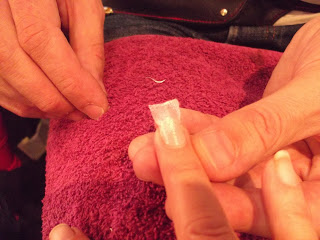 The fibre-glass mesh is fixed over the whole nail.
My pics aren't the best because the lighting wasn't great and I was – yes REALLY – sitting right next to Liam Gallagher so found it rather hard to concentrate. You have to let me off less than perfect pics for that! The fibre-glass mesh is put over the whole nail so it is very strong and then coated with a special glue (you could use nail glue) to stick it down.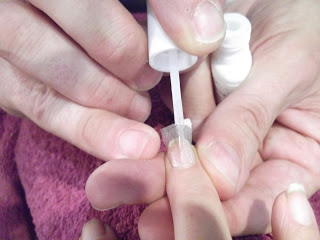 Nail glue applied over the whole nail and the mesh.
Once he'd applied two coats (and used a special spray to seal it), David then buffed it up so that the nail looks completely normal – you would literally never know there was anything on it at all. 
See, I said I was distracted! Liam Gallagher's fault.
So now I have a full set of nails that look pretty near perfect so I will be able to swatch a full hand instead of three nails. 
Oh, and yes, of course I ear-wigged Liam's conversation but I wouldn't dream of telling (he liked the closing ceremony…shhh). 
You can find David at the Percy & Reed salon on Great Portland Street in London, details HERE
Transparency Disclosure
All products are sent to me as samples from brands and agencies unless otherwise stated. Affiliate links may be used. Posts are not affiliate driven.