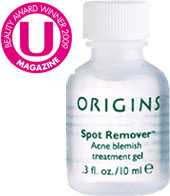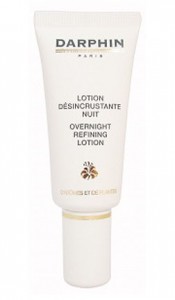 Okay, hate to say it but I have the Mount Fuji of spots on my chin – it's not glamorous, it's not elegant and it's not staying. Since I very, very rarely get spots (probably about 6 in my whole life) it's a bit of shock….I'd love to disguise it in magazine terms and call it a 'blemish' but it's so beyond that description that I have to call it the giant zit it really is. Anyway, I met up with a kindly PR today who generously came armed with failsafe remedies to slay this beast. She brought Origins Spot Remover, £10 (like the name: does what it says on the tin kinda thing and no airy fairy talk of impurities etc), full of spot fighting salicylic acid, clove oil and oregano – it gave a little sting when I applied it but otherwise my skin is tolerating it fine (despite piling on far more than the recommended amount – sorry, but I'm desperate). She also brought Darphin Overnight Refining Lotion, £19, to draw out any 'impurities' so it can start healing. Somehow this handy product had completely passed me by, but I love it already. Lemon essential oil, sage essential oil and witch hazel extracts form a white paste that can be used at night to also draw out blackheads and clear oily patches. You couldn't really use it during the day as it sits in a little clay like lump on the offending spot, but once this horrible blight is gone from my chin I'll definitely be using the product for overnight skin congestion clearing. Have high hopes that this two pronged approach will be the zit killing combination I need. It turned out that Larissa, the PR, had also had a recent breakout so we spent an hour discussing zits, scabs, blackheads, scars and had the big to-squeeze or not-to-squeeze debate! Who says beauty is all about the glamour?!
Transparency Disclosure
All products are sent to me as samples from brands and agencies unless otherwise stated. Affiliate links may be used. Posts are not affiliate driven.