Okay, my four new loves are the following:
Clarins Doux Peeling Smooth Away Cream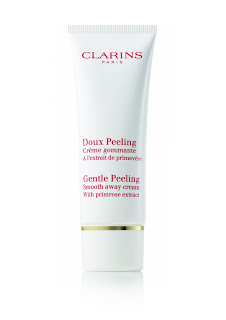 I always love a 'gommage' – the old fashioned word for this kind of exfoliating cream. You apply a thin layer to your skin, wait for it to dry out a bit and then use gentle sweeping movements to remove. It forms little squiggles (worryingly grubby in my case) as you sweep and the formula whisks up any grime and old cells to leave your skin feeling ultra smooth and looking markedly brighter. It isn't the tidiest of ways to exfoliate your skin but I do think it is one of the most effective. This one is £23.95, but I've spotted it for less across the web.
Caudalie Vine Body Butter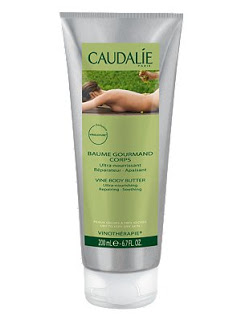 Caudalie's USP is using grape extracts, known to be nourishing and in some cases, have exceptional antioxidant and anti-ageing effects on the skin. This body butter is divine. It manages to pack a powerful moisturising punch in a formula that doesn't feel sticky or heavy as some so called 'butters' can. It smells fruity but in a grown up way – not so sweet, more light and fresh – and leaves my skin feeling silky soft. You don't need to slather it on – the consistency is somewhere between a balm and a lotion, and I think, frankly, I've found the perfect body cream. Love it. It's £19.
Micheline Arcier Harmonie Bath Oil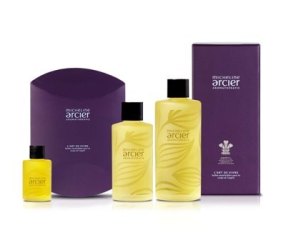 You only need the tiniest amount of this potent oil to get the aromatherapy oils of camomile, petigrain and ylang ylang wafting with the steam of a hot and comforting bath. This one is formulated to aid sleep and it is deliciously relaxing and releasing. I like their concept of an 'aromatic bath' – recommended to be taken at least four times a week – it seems very French and very indulgent! Sadly Mme Arcier is in the big aromatic bath in the sky but was a pioneer of aromatherapy and advocate of holistic well-being and I'm happy her formulations live on.  Prices start at £13 for 15ml (which will last for at least a dozen or more baths). Find it at www.lessenteurs.com.
Prai 02 Infusion with Vacuum Technology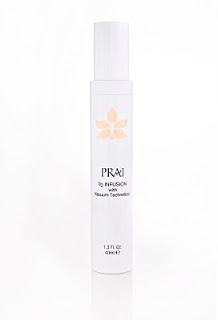 I really have no time for so-called 'oxygen' home treatments – in fact, I think I've properly slated a couple of others, but I did find them truly hopeless. So, I wasn't expecting great things of this – and I'm happy to be proved wrong. The blurb says the formula contains oxygen molecules to help deliver extra oxygen to the surface of the skin giving lacklustre skin a more youthful and refreshed look. The orangey-pink lotion is applied to face where it foams and foams – in fact you'll look like you dipped your head in Matey – you leave it on for a couple of minutes and rinse off. Once I'd scooped the foam off and rinsed my face my skin felt extremely soft and smooth and a quick mirror check confirmed that my complexion was indeed perkier and a little bit glowy. Not bad for the end of a long day at the end of a long old week. This has gone straight into my 'must use regularly' stash because whether it really did infuse my skin with oxygen or not, it made it look a darn sight better and that's the box ticked for me. It's launching on QVC in the next few weeks at £19.75. NB: Checking other reviews, I notice that this may not be for sensitive skin as some bloggers have found it stings. It didn't sting at all on me, but if you are a sensitive soul, leave it.

Transparency Disclosure
All products are sent to me as samples from brands and agencies unless otherwise stated. Affiliate links may be used. Posts are not affiliate driven.