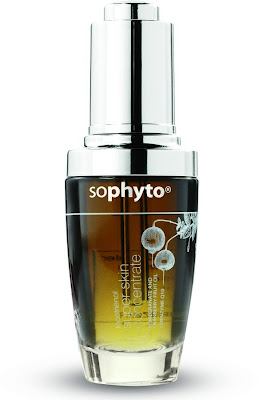 I was totally an early adopter of Sophyto when it launched several ago; it was the first organic range that really rocked my beauty world. In those days it looked very different to how it does now, but even then was highly advanced in the world of organics. 
I've just had the pleasure of trying the Tocotrienal Super Skin Concentrate and it's a bit of a YES, THIS! moment. Tocotrienal is full of COQ10, fruit oils and Vitamin E in it's myriad forms (alpha, beta, gamma and delta) and it is in one of those luscious consistencies that the moment you put it on your skin, you know it's an instant win. A soft, soft oil that glides over the complexion making it immediately feel smooth, soothed and nurtured. The following morning, there was no oily residue left on my skin, instead, just the optimum feeling of moisture and softness. Glad to see this range hasn't lost its touch and I'd recommend it in a heartbeat.
The only one thing I would flag up is that is smells quite earthy. Not hempy (my pet hate), just earthy.


The Concentrate is £35.19 at Planet Organic HERE 
but I'd also recommend the rest of the range as an organic brand that behaves better than very many regular brands in giving your skin a boost. 
Transparency Disclosure
All products are sent to me as samples from brands and agencies unless otherwise stated. Affiliate links may be used. Posts are not affiliate driven.