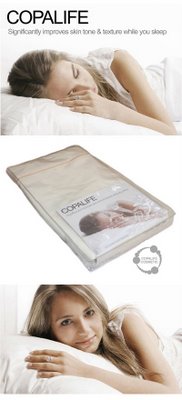 I've recently been sent a Copalife pillow case. It's infused with copper, silver and zinc ions that release when in contact with skin, and is said to help reduce lines and wrinkles as well as promoting cell renewall. Now, I'm not normally one for this kind of gadget…it's sort of just too hard to believe. However, Copalife have recently had a big up in the New York Times – which I do take quite seriously. Those users who were quoted swore they'd never sleep on a regular pillowcase again. In fact, copper, zinc and silver ion infused materials have a more important use in the medical world thanks to proven wound healing abilities (the technology stops 99.9% of bacteria, fungus (a dust mite's favourite dinner) and microbes that cause odours and the like). However, when it comes to skin care, Copper has the ability to encourage collagen and since the pillow slips and bedding are infused with Allantoin (a moisturising, soothing and anti-irritant ingredient), it all starts to add up to something really quite plausible. I'm kind of welded to mine now, I must admit, if only for the belt and braces effect – and, hey, I'm asleep….skincare doesn't get more low maintenance than that. The first night I tried it however, I actually lost sleep for worrying about getting the right amount of time on each side of the face – with no way of actually controlling that, I thought maybe I'd end up with a very youthful left side and a rather tired right side. I've stopped worrying though; there's nothing I can do about it anyway, and think that rather like diet, it's what happens over a period of time, not an individual occasion. And, I'm sleeping blissfully. They're 25 pounds at www.copalife.com.
Transparency Disclosure
All products are sent to me as samples from brands and agencies unless otherwise stated. Affiliate links may be used. Posts are not affiliate driven.