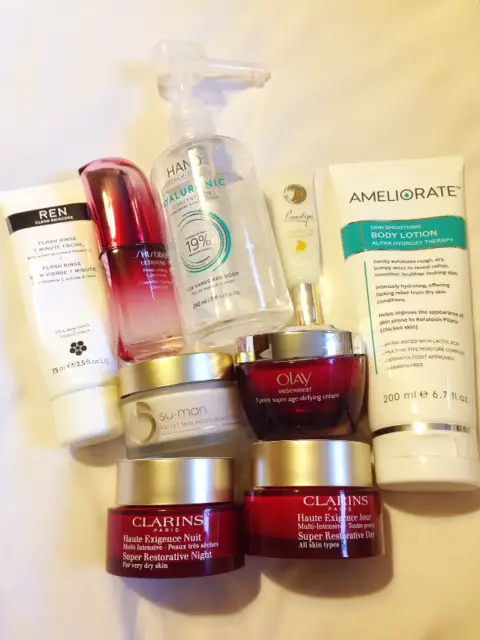 I'm always curious to see what everyone else is using on their skin, so I've just tipped everything onto my bed from my bedside table. I have four beauty stations in my house (obviously, not formal ones). One is beside my bed, one is in the bathroom, one in a drawer set in the sitting room and my makeup lives in the kitchen. So, there's pretty much no escaping it! Starting with the bedside table pile (I might blog the other station contents, but actually when it comes to the make up it is such an embarrassing amount, I'm not sure I can bring myself to do it!). Basically, if I'm short on time and energy, I'll take my make up off in front of the TV with cotton wool and a cream cleanser (currently CeraVe which also doubles as a swatch cleanser for my arms). If I'm feeling really guilty, I'll do the whole double cleanse thing in the bathroom with a Washii to wipe it all off. I think the week is split about 50/50 on thorough and lazy. When it comes to a morning cleanse, I'm not religious about it, and probably do it every other day.
But, I keep all my creams for day and night – including body – next to my bed and put them on when I get into bed! With body products, it's when I am on the bed, rather than in…. can't work out the logistics of that one without it being hard on the sheets! All the creams above are in general use at the moment; I swap in and out although I'm using the Shiseido serum every day, morning and night, and more often than not for now, Clarins for day and night, too.
I was really surprised to see a friends beauty products, including make-up, all neatly in her bathroom – mine are totally scattered to where it's most convenient, and that's never going to be a family bathroom!
I'm interested to know if you have stations as well or if you have one single place for everything? Please don't let it just be me!
Transparency Disclosure
All products are sent to me as samples from brands and agencies unless otherwise stated. Affiliate links may be used. Posts are not affiliate driven.