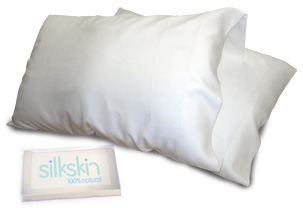 I've been using the SilkSkin pillow case for a couple of weeks now: the claims for this as an anti-ageing tool are that natural silk contains the same proteins and amino acids as skin, making it the ideal surface on which to place your face at night. Also, the pillowcase can stop your skin drying out during the night and therefore avoid more wrinkles. Now, I have to admit that I really like this product – not, I hasten to say, because I think it's giving me youth enhancing benefits. The plain facts are that unless you sleep literally face down in your pillow – and who does? – your facial skin isn't in enough direct contact with the silk. Mostly people sleep on their back or their side, and unless you do an even toss and turn pattern throughout the night, it's most likely that only one side of your face will ever be in contact. That said, it's most major benefit is keeping hair smooth during the night, as the silk doesn't ruffle hair shafts leaving you looking a little more groomed in the morning than normal. It also feels deeply luxurious: it's a real quality product, soft, cool and decadent….exactly the sort of bedding I'd like to become acustomed to! If it does provide long term skin benefits, then that's an added bonus. In the past, I've had silk pillow cases but none of this quality. It's £35 at www.silkskin.co.uk.
Transparency Disclosure
All products are sent to me as samples from brands and agencies unless otherwise stated. Affiliate links may be used. Posts are not affiliate driven.