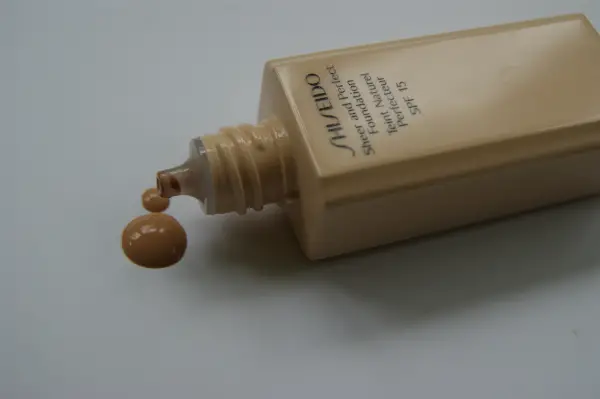 I got put off reviewing foundations because its a little like fragrance in that it is so personal – one shade or one type does not suit all – and it's hard to please all of the people all of the time with foundation reviews. But, I have to say that Shiseido Sheer & Perfect Foundation is indeed rather special, and if there is a shade for you, it comes in a texture and formula where there is nothing not to like.
It's kind of a return in consistency to old style fluid foundations but this time it claims to diminish red acne scarring, under eye circles and pore shadows (what is a pore shadow?) to even out skin tone. If I didn't know better, I might suggest this a CC cream in disguise – it is formulated to cancel colour interference in the lightest possible consistency. So, the ultimate test, because fortunately the shade above is perfect for my skin tone, I've tried it. It's nothing short of wonderful. It feels incredibly light on the skin and yes, it does knock out under eye circles to a point (every little helps), definitely diminishes uneven tone (I noticed that round my nostrils where those corners can often be a completely different colour to the rest of the face) and overall gives an exceptional evenness and smooth look to the skin tone. It launches on September 5th in House of Fraser for £29 (30ml).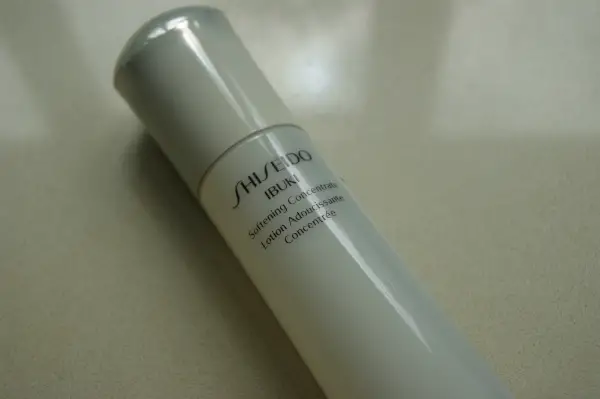 Japanese women have one heck of a skin care routine – eight steps morning and night is not unusual. I think Shiseido have recognised that this is not going to wash in the UK. I'm happy if I can get away with two products! So, the Ibuki range (aimed at women between 25 and 35) has been pared down to a mere 3 steps although the amount of products within each step is up to you. There is so much information on this range so I am cutting it right back to what I feel are the key points, circumnavigating the PR and marketing speak as much as possible.
Shiseido's thinking is that women within the above age group are probably stressing their skin out more than any other age group with imbalanced diet, disturbed sleep and burning the candle at both ends. They feel this lifestyle can then reflect on your skin, which I think we'd all agree with, so ingredients within the Ibuki range capture water in-between cells and prevent cells shrinking, exfoliate the skin surface and boost proteins and collagen, which ought to help skin look brighter and plumper even after the late nights etc.  If there is one must-try from this range, I'd opt for the Softening Lotion. Softening Lotions are one of those products that nobody knows quite what to do with but they're so worth it for the extra soft feel and look of your skin that they produce. You use them after cleansing and before moisturising.. it's one of the product steps we should definitely pick up from Japanese women's routines, although I'm baulking at the full eight!
Ibuki launches on 5th September.
Transparency Disclosure
All products are sent to me as samples from brands and agencies unless otherwise stated. Affiliate links may be used. Posts are not affiliate driven.