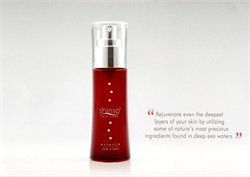 When I spotted Alice Hart-Davis's feature on Shinso face products, I was interested straight away to want to try the products. She was kind enough to put me in touch with Nao (who owns the brand) and we arranged to meet up so he could talk me through the products. Meeting brand owners can be a double edged sword; on the one hand you get the information from the person who knows the products best, but on the other, I'm terrified of being penned in by an enthusiast who just won't stop talking (understandably) about their passion when I've long since passed saturation point. So, I was all prepared to try and find out a little bit about Nao as well as Shinso, just to break up the intensity. It wasn't the easiest interview I've ever done – almost impossible to get behind Shinso-Nao to person-Nao.
But, he lives and breathes his brand. He said he'd agreed to meet me on Alice's recommendation and that he doesn't meet with everyone. He doesn't want a PR because he feels he can do it all himself. I suggest he is a control freak and he looks at me completely blankly. He's just flown into London from Arizona for 24 hours only to turn round and head to South Africa tomorrow. I offer the suggestion that if he had a PR, he wouldn't have to do these meetings and his time would be freer.  He doesn't feel anyone else can explain it as well as he can. Fair enough. So, we get to the products. There are currently three in the Shinso range, Essence, Glow and Mist. They've got a phenomenal amount of ingredients in them, all 69 sourced in Japan, including EGF, Superoxide Sismutase and Fullerenes (these three are the power players), Japanese herbs and botanicals, as well as deep sea waters. Nao claims that the products can lift your skin in front of your eyes; in fact, he is so convinced of it that he keeps smearing his face in Essence and saying, 'Look, you see how my skin is lifting?'  'Actually,' I say, 'I'm afraid I don't.'  Because the truth is, I genuinely can't see any difference. I'll put a rider on this – he has probably the most perfect, taut and line free skin I've ever seen on a man, so it's possibly not a surprise that there is no real magic happening in front of my very eyes. But, it makes me feel cynical nonetheless.
I change the subject and ask him if he has any hobbies. 'No, I work on Shinso 24/7'. Not strictly true, but near enough as he survives on very little sleep. I say he must have something he likes to do, like reading, or, as a stab in the dark, maybe he has a pet? 'No. No pets, I am hardly ever home'. Ok, well he is a snappy dresser. 'Maybe you like shopping?' 'Yes, yes I like shopping but now let me put the products on your hand and you will see what they can do. If you don't like it, don't write about it; it's up to you.'  So then he pops a drop of Glow on the back of my hand and instructs me to rub it in. As I rub, tiny grey bits of skin start to come away from my hand – no pain or tingling, just the more I rub, the more grimy skin cells collect into little slithers. My hand immediately looks more soft and the skin more refined. Any redness I had round my knuckles is gone. He then puts a drop of Essence on top of my newly cleaned hand and gives it a quick rub. All done. My hand looks silky, line free and completely different in tone to the other one. I actually gasp! It's astonishing. He's pleased that I'm looking so amazed, but I can tell he has seen that reaction before! 'When did you last see Alice?' he asked. I hazarded a guess at a month or so ago. 'She looks amazing now, and once you start using this your friends will all be asking why you look so different.' Okaayyy. But in fairness, Nao places a great deal of importance on the skin regeneration and healing properties (he also says Shinso can stop pain, but I'm sceptical). Before this turns into the world's longest blog post, I'll quickly say that after Nao had left (but not before he had time to tell me he knows Madonna and is a friend of the CEO of somewhere or other), a PR friend and journalist friend were sitting at a table opposite so I joined them for a minute to test it on them. They did the gasp thing, and then some, too! 
The most important test is obviously the face: I can't do it now as the light just isn't good enough..I want to see in raw daylight what Shinso can do, so I'll post tomorrow on the final verdict, but not before I tell you that Essence is £250 and Mist is £165 (no price yet for Glow as it is brand new.)
Transparency Disclosure
All products are sent to me as samples from brands and agencies unless otherwise stated. Affiliate links may be used. Posts are not affiliate driven.