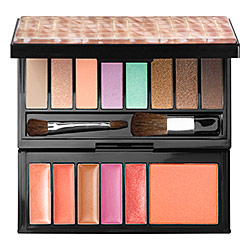 Well now.. this changes everything! Sephora US is now shipping to the UK. I was alerted to this this morning by @beckymort on Twitter and I've only just had the chance to check it out for myself. It's true! Sephora are charging a £10 flat shipping rate on orders over £75 (won't be hard) and there's a currency converter to pounds sterling on the site.
So, although this is brilliant news for the UK beauty consumer, it's going to seriously mess with the brands. The US launches much earlier with many products (NARS Matte Multiples, Clinique Cheek Pops to name just a couple of current ones) which means that any chance of regulated and controlled PR on a product launch goes straight out of the window. We can buy an item, have it shipped and swatched before the UK PRs have even got the press release written if we so wish.
We now don't have to wait for a kind friend to shop Marc Jacobs Beauty for us, or the fantastic sets of minis that Sephora do at Christmas (there may be some kind of issue with shipping fragrance though.. not sure yet and there is a shipping restriction on nail polish so count those out), and all of the fantastic Josie Maran range that I have longed to come to the UK kind of now has – albeit with a £10 shipping charge. And the Beauty Points? Danger zone!
It might be worth clubbing together with friends to make the Sephora £75 limit for the flat Sephora UK shipping£10 rate. But oh my gosh.. this is mega news! What do you say? One question.. shipping? Does it actually come by ship? Or plane? Does anyone know?
*NB: I think we'll discover a few more 'can't haves' – I'm keeping an eye on Twitter and it seems no NARS and no Hourglass so far. And, there doesn't seem to be any info on whether we will get customs charges at this end – lots of peoples are adding comments so I expect all will be revealed. Sephora US is HERE and I've done a quick video on how to order HERE.
NB Again! I just placed an order and here's how the taxes worked out (bearing in mind that I didn't buy £75 so didn't get the £10 flat shipping rate).
| | |
| --- | --- |
| Total Product: | GBP 59.05 |
| Total Discounts: | GBP -0.00 |
| Duties & Taxes: | GBP 13.82 |
| Shipping & Handling: | GBP 17.71 |
| Order Total: | GBP 90.58 |
Transparency Disclosure
All products are sent to me as samples from brands and agencies unless otherwise stated. Affiliate links may be used. Posts are not affiliate driven.