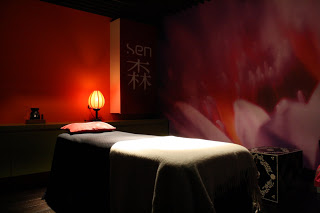 Right, sending a bloke for a pedicure is a bit like sending a girl for a barber's shave. Just doesn't seem right. But, men have notoriously more ravaged feet than girls despite not having to wrestle with the discomforts of high heels because they never think to pay them any attention. So, I was happy to send TheVerySimonG (www.theverysimong.com), who loathes his toes off to the new Sen Spa at Harvey Nichols to road test their pedicure treatment. Here's how he got along:
"I hate my feet. I make no secret of that. Ask anyone who knows me properly and they'll tell you. I've broken almost every toe, one ankle fracture, a completely bent big toe, dry skin and horrible nails. Why I've just willingly told you all that is beyond me, but I needed to get across how gross they actually are. I have developed, just like my feet, a thick skin to ridicule whenever I get them out. Some say I need to get over it. How though?
Enter BBB. You can imagine how awkward/pleased/nervous I was when BBB asked me to review a foot treatment at the new Sen spa in Harvey Nichols. In an attempt from her to get me to love my feet she told me to pick a treatment. I instantly wanted a full body massage as I've actually never had one, ever, but had to travel further south and go for a foot option. Reflexology? Sounds good to me.
Spa manager Sally's huge smile was a very lovely start. I immediately thought she won't be smiling when she sees my feet. Luckily for her she wasn't going to be doing my treatment. She showed me straight into my 'room', offered me a water (feel like I need a vodka), told me to take my shoes and socks off and put them into an inviting tub of hot water to soak. She smiled again, dimmed the lights and left me with background music until my miracle worker arrived.
The lady who came to massage my feet (eww) remained nameless. She didn't introduce herself, or say anything for that matter, but it didn't bother me. I lay on the bed, heard her put gloves on, thought to myself 'are my feet THAT bad' and then flinched as she took each foot and kneaded them. She worked her way up to the knee, but focussed on the feet by rubbing and prodding. Poor woman. At one point I nearly knocked her out with a kick to the head when she reached a ultra-ticklish part of my right foot. I can't help it, they're not used to being touched!
I'm no expert, but I thought reflexology was a way to tap into energy points around the body from the feet. To me it just felt like a massage, albeit a very nice one.
The treatment was very relaxing though, from the actual massage to the lighting of the room, the smells and the music. I wasn't thinking about anything, which is a first for me. The massage oil she used was amazing and I have to say that my feet felt incredibly soft afterwards, which is also a first for me. I wouldn't say I love my feet just yet, but I wouldn't say no to another foot treatment. I'm thinking maybe one of Sen's gorgeous foot scrubs next!
Transparency Disclosure
All products are sent to me as samples from brands and agencies unless otherwise stated. Affiliate links may be used. Posts are not affiliate driven.