Radical is another high-tech skin care range that joins a power-packed bunch at Harrods. Created by Liz Edlich, who has created many skin care products, the range is very, very potent. In fact, a little bit too potent for my skin. I used three products from the range, Age Defying Exfoliating Pads, Restorative Moisturiser and Youth Infusion Age-Defying Serum. It's impossible to identify which one my skin was complaining about – I have to say, I loved using the Exfoliating Pads; they are amazing and leave skin smoother than anything else I've used – but used all together my complexion said no!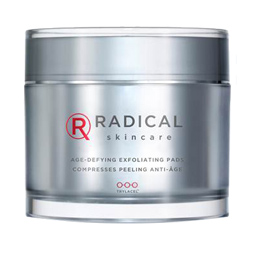 It's a pretty amazing brand, and bearing in mind what suits one person doesn't necessarily suit another, I think I would advise that you start with one product and then work your way up to another. The range's USP is a veritable blast of  anti-oxidants and Trylacel which mimics the cell membranes so that ingredients are delivered where needed. Radical claim it is 300% more potent than other leading brands and I can well believe it.
Another indicator that can't be ignored is the fact that Liz Edlich is 48. She looks ten years younger. I'm going to give a couple of the products another go while I wait for more BioEffect to arrive and hopefully if I go gently, my skin will tolerate them better this time. Needless to say the range is excruciatingly expensive.
It's one of those things that one dare not say at beauty launches but if you are being presented with the secret of enternal youth by someone who looks a bit knackered and certainly not amazing for their years, then you do really have to wonder if the products are working. And you'd be amazed how many times that happens. Even dermatologists brought along to add weight to the brand claims can look a bit ropy. Sorry, but if you want us to buy into the youth elixhir, have the decency to look miraculously young for your age! Liz is the best advocate for her own range; it's definitely a case of 'I'll have what she's having!"
Transparency Disclosure
All products are sent to me as samples from brands and agencies unless otherwise stated. Affiliate links may be used. Posts are not affiliate driven.