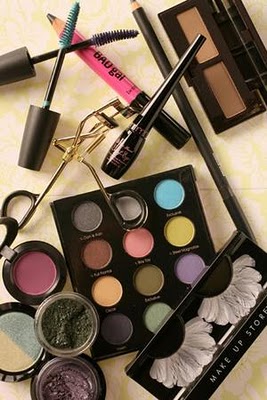 Ah, I think this is my favourite post to date! I put a call out on Twitter to find out what beauty items Tweeters couldn't get through 2011 without and the line up is a beauty lover's dream! I've just enjoyed reading through the list and it's made me want to try some new products too. Please feel free to add your 2011 must-haves in the comments section….and check out some of the Tweeters for their amazing taste in beauty booty!
@nicolalalalala: not technically a product, but having my brows threaded has changed my life! It's something I'll keep up in 2011.
@HelenNiceThings: Easy. China Glaze's Spring collection. It looks amazing.
@Productgirl: I cannot live without my @Clarisonic and @KateSomerville Cycocell Dermal Energising Treatment and Exfolikate.
@VexintheCity: Ooh!! MAC Ripe Peach Blush and Lancome Hypnose Drama Mascara.
@Lucyparts: Le Blanc De Chanel & Topshop Lipstick in Satin.
@Inmywindow: Bobbi Brown foundation, Liz Earle Skincare and Boots 17 Va Va Voom Mascara 😀
@Thekarleighshow: Illamasqua nail polish, best formula ever and Jomina is the prettiest colour I've ever seen x.
@Farrah_Gray: I can't live without my Chantecaille Tinted Moisturiser, it brings my skin back to life!
@6inchstilettos: Lancome Hypnose Drama and MAC Stereo Rose MSF!! I love them :-)xx.
@Disneyrollrgirl: How many can we have? My perfect all-day red is YSL Rouge Couture No 13 worn over Burts Bees waxy lipbalm silk.
@Roxychick911: beautywise, I can't live without YouTube, now I found it, it's my go to!!
@Makeup4all: I'd say all the Becca products I don't have yet. I also need more Hourglass cosmetics and more nail polishes.
@TheDashEmpire: I can't live without Lanvin Marry Me which I keep calling Love lol.
@CherryfiedChloe: Estee Lauder Double Wear foundation, Too Faced Shadow Insurance and Nars Albatross Highlighter!
@SheenieShaikh: Lancome Hypnose Drama, Prive Shampoo & Conditioner, UD Primer Potion, Nars Matte Lippies, Nars Taos blusher…..too much?
@Charleymarley: Benefit's Posie Tint 🙂 @teenytinyleanne introduced me to it and now I'm obsessed! It's on every day…
@Andreapica: I want the Tartan Tale Collection from MAC.
@HelenNiceThings: I am putting in a massive Skinfood order when I get back to work. Can't wait!
@Tweeting_owl: Can't get through 2011 without No 7 Soft & Soothed Cleanser, Liz Earle EyeBright, Estee Lauder Futurist Foundation and Icy Mauve Lipstick.
@PerfImperfectBB: Can't live without my Benefit Creaseless Creams.
@Rebmusik: Clinique Laser Repairwear Serum – works a treat!
@VexintheCity: Mavala Scientifique is MAGNIFIFQUE!!
@Aarti_b: Has to be the Garnier Tinted Eye Roll On – has changed my life (in make up terms anyway!).
@Sensini: La Roche-Posay Physiological Micellar Solution – a mouthful but the best EVER for sensitive eye make up removal!
@RoseLusted: Cannot live without Shellac! I'm obsessed, why have just a regular mani when Shellac lasts two weeks?!
@Lucyrennie: YSL Touche Eclat is my lifesaver product and will be forever I think 🙂 xx.
@Dvoradivine: Dermalogica Precleanse. Lifesaver for models/brides who don't take off make up before shoots.
@Hellcandy: Lanolips, Morocanoil & Liz Earle's Superskin Moisturiser are the ones that stand out for me.
@thekarleighshow: not forgetting Mavala Scientifique!
@WelshBeautyBlog: Organic Surge skincare, Estee Lauder Double Wear Foundation, NARS Douceur Blush & Chantecaille Compact Soleil Bronzer.
@LovelyisLovely1: Jo Malone candles (get rid of possible Miss Polar Dog smell), MyFace Blusher, MAC powder in NC35 as have olive skin.
@LouLou699: Liz Earle Cleanse & Polish, Elemis Pro Collagen, Body Shop Cocoa Butter Body Butter, Lush Tea Tree Water, Leighton Denny Nail Polish Remover.
@HelenNiceThings: Can I technically not live without something I've never seen/used? If not, stick me down for OPI Nail Envy!
@Kitaunt: I could not live without Benefit Benetint & Erase Paste, Mac Lustre in Plink! And Urban Decay Eye Primer Potion.
@AnnaCEdwards: Benefit's Playsticks Foundation (which is a huge shame as there are rumours of discontinuing them…boooooo!)
@KatePinkSmith: Bobbi Brown Gel Eye Liner, Dior Soin Lumiere, Dior Nude Foundation, MAC Cream Peony Blusher, Origins Jump Start. Xxx.
@SteeInPurple: I can't live without my Embryolisse Creme, my OPI Avoplex Cuticle Oil and my UD Naked Palette. 🙂 Can't choose ONE of those.
@KatePinkSmith: MAC Cherish Lipstick and Spice lip liner. Eau par Kenzo, Eau Dynamisante xxxx Gosh sooooo many!!
@KatePinkSmith: Seche Vite. ALL Leighton Denny xxxx.
@ftlob: Can't live without Isomers Stem Genesis! Began using it beginning of December and am AMAZED with the results.
@KatePinkSmith: ENTIRE Kerastase Reflect hair range. Treatment is amazing!!!.
@VexInTheCity: More! Boots Extracts Body Butters, OPI Lincoln Park After Dark, MAC Notable Blush, NARS Gina & Taos, pointed Tweezermans.
@marsipan79: My can't live without has to be my lash extensions. Love them! Although love it even more when people think they are actually mine!
@LouLou699: erm, Laura Geller Inivisible Oil Blotting Powder, Vivienne Westwood Naughty Alice, ELF Studio Powder brush, UD Naked Palette.
@KimberleeVDW: I can't live without Aveeno's Skin Brightening Daily Scrub :-).
@KatePinkSmith: Clarins Cleanser & Toner sets xx amazing value post Xmas. Always buy about 4! Xxx.
@lauraharrison: Can't live without Liz Earle Cleanse & Polish, Emryolisse Lait Creme Concentrate & Bobbi Brown Long Wear Gel Liner.
@CityGirlFashBox: Chanel Bronze Universal and Estee Lauder Double Wear Light foundation!
@nav_t: Bobbi Brown Gel Liner in Black Ink, UD Primer Potion, Naked Palette, BOS Vol3, MAC Glass in Lust, lip pencil in Whirl.
@lipgloss86: Liz Earle Cleanse & Polish – Defo!!
@KatePinkSmith: Chanel Lip Treatmetn! Best ever!! The one in the lipstick not tub. Origins Modern Friction Face Scrub! Best Ever!!!
@Sparklzandshine: REN CC3 Face wash, Sally Hansen Miracle Nail Thickener, Liz Earle Superskin Concentrate, MUFE HD Foundation.
@BeautyAlchemist: 2 of mine are @MarioBadescu Drying Lotion & Origins Zero Oil Cleanser.
@SCforM: NIA24 Skin Strengthening Complex and Dermalogica Pure Light SPF30 – repurchased today.
@RichClarkePR: Olay Regenerist SPF30 Flawless Skin Cream & Oskia Cleansing Balm x.
@Maxinecassidy: Top Shop Cream Blush in Nutmeg and MAC Lipglass in magnetique :-).
@EllieBalfe: My can't live withouts are Laura Mercier Creme Smooth Foundation, Clinique Airbrush Concealer and Jan Marini C Serum x.
@Adelefashionmag: Mac Strobe Liquid Lotion, Laura Mercier Mineral Powder, Chanel eyeliner.
@ZoeIrwin Darphin aromatic cleansing balm with rosewood.
@CharlieLotL I can't get thru 2011 without estee Lauder advance night repair, seche vite, and my beloved ghd's. Oh and alpha-h liquid gold mask!
Transparency Disclosure
All products are sent to me as samples from brands and agencies unless otherwise stated. Affiliate links may be used. Posts are not affiliate driven.