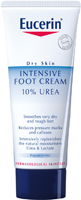 Much as I love a luxury product, sometimes I have to admit that cheaper ones can do the job just as well, if not better. Eucerin is a very good case in point. You'll notice that this is a sponsored post, but the Intensive Foot Cream is a post I've been meaning to write for a while. I'm quite lucky in that I don't get chronically dry feet – I know some people really suffer with cracking and hard skin, but I do think that maintaining the skin on your feet so it never comes to that has a lot to say for itself. Whenever I put on body cream, I do a quick swipe on my feet as well. But, come summer time, when I'm mainly wearing flipflops or flats, that's when they do start to look a bit, er, ropey. And it's all down to dry skin. When that happens, it's out with the Eucerin, and everything is back to normal in literally a couple of days. 
While I'm on the Eucerin subject, whenever I ask my friends if they want anything from my beauty room, two of them especially always ask if I have any Eucerin! So, back to the foot cream. It works on an oil in emulsion basis meaning that it sinks in very easily – the very last thing you need is greasy feet. It also contains Urea, which I've got to admit, doesn't sound exactly alluring, but it is phenomenal at reducing moisture loss, drawing moisture to the skin and strengthening the skin barrier by helping skin easily renew. Eucerin Intensive Foot Cream contains 10% which is a high quantity that guarantees an escape from dry feet. 

If your feet are really, really dry, load it on and pop on some socks overnight; the difference will be very noticable. 
I like the information from the Eucerin website www.eucerin.com especially about feet: 26 bones, 19 muscles, 107 tendons and 370 sweat glands. And, we walk about 100,000km in our lifetime. Which of course, only serves to prove me right on always taking a lift if there is one! 


So, the info. Eucerin Intensive Footcream is £10.95 and can be bought at www.boots.com, here: http://www.boots.com/en/Eucerin-Dry-Skin-Intensive-Foot-Cream-10-Urea-100ml_11718/
*Sponsored Post 
Transparency Disclosure
All products are sent to me as samples from brands and agencies unless otherwise stated. Affiliate links may be used. Posts are not affiliate driven.