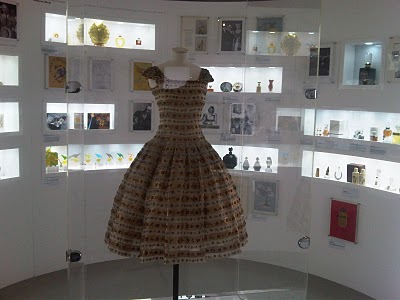 Dior Dress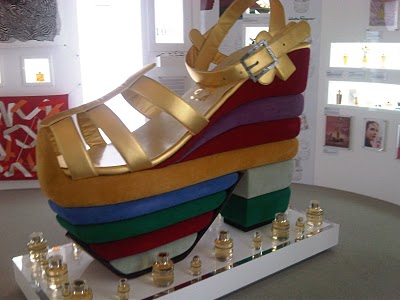 Ferragamo Shoe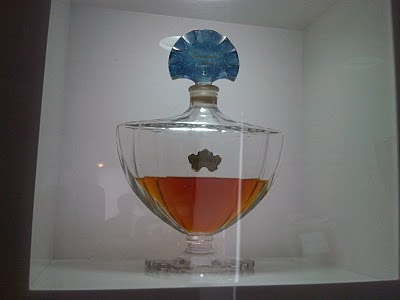 The first Shalimar bottle design; complete with mercury laden lid. Eek!
Not being madly a perfume person, I was kind of sceptical about being taken on a guided tour of Harrods fragrance exhibition, running from now until 2nd October. Like, how interesting can old bottles be? Roja Dove (yes, he of the already notorious and yet to be released Sun-scent, Buzz) conducted the tour for a group of bloggers. I have to hand it to him – he was fascinating; in fact, the entire collection is fascinating but Roja brought it to life superbly. His knowledge is just exemplary. Immaculate. However, even without a guided tour, the collection is amazing. Cleverly, they've illustrated the exhibition with some non-perfume items, including a Halston dress from the '80s, a vintage Dior dress and the giant Ferragamo shoe.
I'm not going to go through a great long post detailing exactly what you'll see because it will only spoil things if you are visiting, but I can say for fragrance lovers, it is truly a treat.
A couple of things really stood out to me that ably illustrate the turmoils, passions and massive egos that embody the fragrance world..the first, when Van Cleef & Arpels launched their fragrance it was the first jewellery house to do so. Naturally, and to stamp their claim to fame for ever, they called it First. Cartier quickly followed suit with a fragrance and while they couldn't ever be first, they named it Must. In essence, two fingers to Van Cleef and Arpels because while their's might have been first, Cartier's was the one that you Must have.
Secondly, Worth's hidden poem; so simple, but incredibly moving. Launched over a period of years, the translation of their names becomes: In the night (Dans La Nuit, 1924), Just before dawn (Vers La jour, 1925), Because I can't bear to say goodbye (Sans adieu, 1929), I will return (Je Reviens 1932), To you (Vers Toi 1934).
Transparency Disclosure
All products are sent to me as samples from brands and agencies unless otherwise stated. Affiliate links may be used. Posts are not affiliate driven.