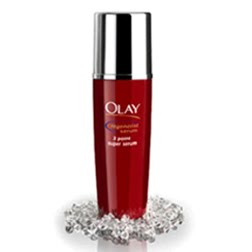 For a very long time, I've wondered exactly what a Penta-peptide is in relation to a peptide. Finally, I have the answer. Initially, I thought it was something that Olay had completely made up – you know, in the way that beauty brands do to form something like Sveltisers or Nano-Thins to make you think you're buying something 'proper' scientific. But, I've done them a disservice it seems. Dr Sian Morris, Olay boffin, has explained it layman's terms and I think I've finally got my head around the exact nature of a penta-peptide.
Right, so here we go. A peptide is a class of ingredient and basically made up of amino-acids. There are many differing types of peptides all with different functions, and some are more effective than others. So, seeing the word peptides all over a bottle of beauty cream doesn't necessarily mean its the foundation of youth. A penta-peptide actually comprises five key elements, whereas a regular peptide only has one. Olay Regenerist uses penta-peptide KTTKS made up of components lysine-threonine-threonine-lysine-serine (er, yes, I'm a bit lost there, too, but hope you are getting the general drift!).
So, what do they actually do? Keep with me – it's quite interesting. Penta-peptides were uncovered by scientists in the US who were looking into wound healing. What the scientists needed to know is how skin knows when to stop cleaning up a wound and when to start rebuilding the structure (including collagen) to get it back to normal. The scientists looked at many different peptides and many combinations of chain lengths (i.e. how many components to each peptide) and the sequences of the components and discovered that the penta-peptide KTTKS worked as a signal to let skin know that 'now's the time to start re-building'. So, you can see how this is relevant to ageing skin – damage to collagen through ageing (as opposed to wounds) can be alerted to start the rebuild of collagen using ingredients containing penta-peptides.
Okay, so there we have it. I'm taking off my white coat and moving away from the bunsen burner. But, it does now make sense that there was apparantly a 20,000 strong waiting list for the new Olay Regenerist 3 Point Super Serum currently on Boots.com. And, they've upped the ante price-wise too, because it costs £31.99. Eek. But, that's comparible with say, Clinique, and is up against some mega-serums that rock in at hundreds of pounds. If it works better than the pricy potions, then I know what I'll be spending my Boots points on.
Transparency Disclosure
All products are sent to me as samples from brands and agencies unless otherwise stated. Affiliate links may be used. Posts are not affiliate driven.