This morning I went along to meet Paul Smith who was showcasing his new fragrances for men and women, Optimistic. I'd expected some sort of blah powerpoint presentation showing intense diagrams of top, middle and bottom notes along with a ton of those paper strips and a room that ends up smelling of vaguely floral boredom. Happily, I couldn't have been more wrong.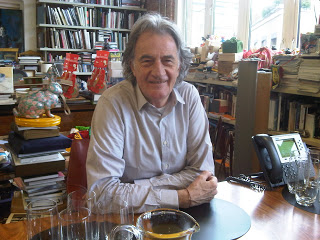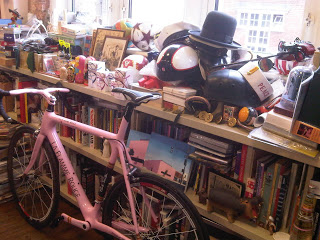 It's an old fashioned term, but I'd describe Paul as a 'genial fellow'. He was absolutely up for chatting to all the bloggers at the event – and the thing we talked about least? The fragrance! As soon as you enter Paul's meeting room, in a tall building in the less fashionable part of Covent Garden, it's an assault on the eyes as you'll see from the pictures. The public adore him, and consequently send him an almighty amount of weird and whacky things they think might amuse him. It's worth noting that he replies to each and every letter or gift he gets. Amongst the towers of books, bizarre robots and bicycle related objects are an extraordinary amount of rabbits.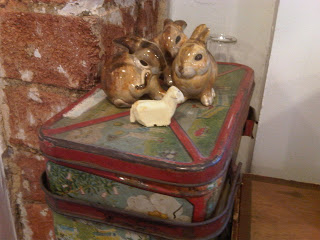 The Paul Smith Bunny has taken on a life of its own – everywhere he goes, people give him bunnies, including one fan who tried to present him with a live one just before one of his fashion shows started! In fact, his wife – he married at 21 – always gives him an Austrian bronze rabbit for good luck before a show. The rabbit phenomenon began while he was on a train journey with a friend and as he gazed out of the window, the friend asked what he was looking for. Paul replied that he wanted to see a rabbit in the field as good luck for his forthcoming collection. The friend sent him a rabbit… and the rest, as they say, is history. He currently houses 80 boxes of various rabbits in his warehouse in Nottingham.
Easily one of the most endearing gifts he has ever received is from a young girl who made him a Peanut Nativity Set. I'm all about making things out of peanuts now!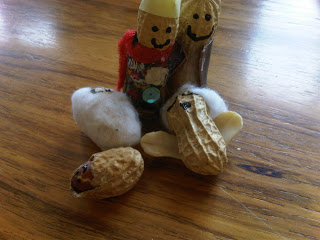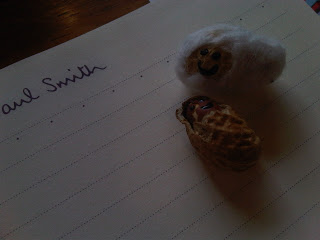 The journalist in me wanted to find some flaw, or some hint of steeliness in Mr Smith who spent the hour being the world's most convivial fashion designer. I tried him on the Galliano affair. 'It's sad', he said. I tried him on skinny models. 'I didn't get involved with that debate. We don't seem to have a choice. If we want girls who are confident on the catwalk and know how to model clothes, we have to use what the agencies can supply. I'm not sure how it can change: it's up to the agencies." 
He genuinely seems to love his popularity, unlike some celebs who are all about meeting 'their fans' in a controlled way. He loves it when men approach him (at airports, coffee shops etc) and confide that they got married in one of his suits ("Well, they're nice suits," he says). He's also rather proud of a magazine cover picture (Global Vision) that features the Dalai Lama wearing a Paul Smith Scarf but when I venture to suggest it might be a fake, he says, "Don't write that!" But then goes on to admit it may well be. All in perfectly good humour.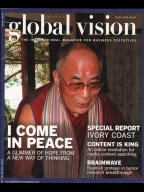 He is shortly heading out to Japan to give his workers over there some tlc – he is hugely popular in Japan; thankfully the Paul Smith team over there are all ok, but nonetheless, he wants to go and make sure. Paul Smith says his success in Japan is down to a rubber chicken and a train-set in a brief case (he has a steel brief case that opens up to reveal a working train-set) and his initial approach was to create humour. He likens his sense of humour to Alan Bennett and finds fascination in the small things in life. You do get a sense that he means it too, and that there is no difference between the Paul Smith private and public persona. He just is what he is. Neither is he particularly celebrity driven which is nothing short of miraculous in these days of celeb-sells.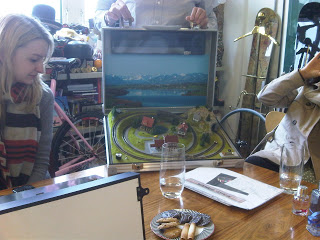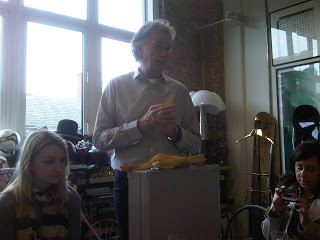 The only moment I saw him for the savvy businessman he has to be to have such an empire was when I asked if he had any collaborations going on. He said he'd been offered the high street ones (H&M) but didn't feel it was right for his brand, yet earlier had mentioned that his favourite time in the stores was when the sale was on, so that people who couldn't normally afford his clothes could buy them. Hmm. That would suggest a more 'affordable' range would make everyone happy, but maybe it just doesn't make business sense to have a cheaper range cannibalize the pricier ones.
So now, I should mention the fragrance, Optimistic! It feels appropriately named, given Paul's upbeat and optimistic nature and aims to capture youthful enthusiasm and energy. With top notes in Optimistic for Her of pink berries, pink grapefruit, litchi and sweetpeas, it's the sweetpea that comes through. And I do love a sweetpea. Middle notes are mandarin, cranberry and a raspberry macaroon accord that kind of does kick in after a while of wearing. Dry down is orris and patchouli and the overall effect is an easy-to-wear, light flower ensemble that triggers a food memory somewhere right at the back of the brain. Optimistic is very summery, very young and extremely pretty in the wearing, and I hope it doesn't get lost in the barrage of pointless perfumes that are coming to market for summer. Both the men's and women's version are heading into Boots on April 7th with prices starting at £25.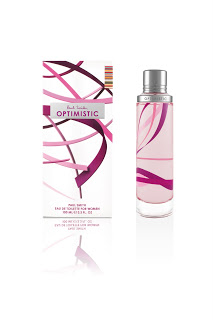 Oh yes, and the bit where he showed his knickers. When asked where he liked to shop, Paul was rather taken aback. "I don't need to go shopping, I wear my own clothes. Even knickers…do you want to see?" I think someone said no, but undeterred he rummaged down his trousers and yanked up the waistband of his Paul Smith pants. "See!". I'm guessing there was a wedgie.




Transparency Disclosure
All products are sent to me as samples from brands and agencies unless otherwise stated. Affiliate links may be used. Posts are not affiliate driven.