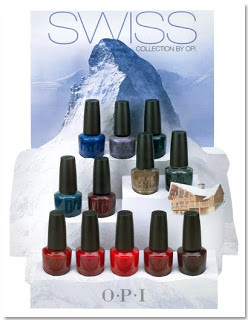 Intriguingly, OPI are playing hard ball with noted US blog Temptalia, regarding showing images of this range back in May. Temptalia posts:
"In compliance with a digital takedown notice sent from OPI Products and their lawyer, all OPI images and information have been removed in order to avoid legal action taken against Temptalia.com and its owner by OPI Products.
We will not "fight" this as a legal battle, as we have no desire to further promote nor give our time to a brand who uses their legal team on bloggers as their first line of defense. A simple Google search will turn up dozens of different websites and blogs with the same information we had previously posted. Our apologies for being unable to serve our readers better."
The wider picture is that OPI have come down far too hard – using a hammer to crack a nut – and unfortunately shown themselves to be less than friendly, and that always works against a brand. Ugly legal words is never a good look for beauty and the exec who decided that throwing legalise to Temptelia probably thought pushing heavy would advance his/her career and show them pesky bloggers. I'm guessing it was a small man with a big car if you know what I'm saying…oh wait, can you be sued for guessing? *hears engine rev*
I have a very good relationship with the UK OPI distributors who are absolutely lovely, but were they to ask me to remove an image because it didn't fit in with their plans, well, who knows what would happen.
Because blogging isn't about adhereing to someone else's marketing plans, it isn't about playing ball with launch dates and writing from press releases. It isn't about falling in line with carefully made sales plans and it certainly isn't about soothing the brows of magazines who have demanded exclusives with a nice lucrative ad tie-in.
In many ways, Temptalia has bourne the frustration of brands who no longer feel in control. Previously, they sold to us where, when and how they wanted to to maximise their revenue and profile. Blogging doesn't allow for this luxury. How you behave on-line is there for all to view, for better or for worse, and in this case, it is very much the worse for OPI.
Transparency Disclosure
All products are sent to me as samples from brands and agencies unless otherwise stated. Affiliate links may be used. Posts are not affiliate driven.