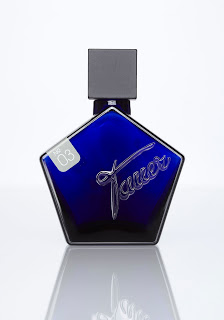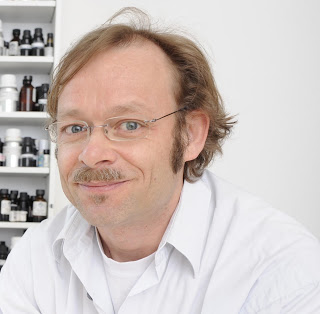 Right, I think I just met one of the very, very few fragrancers who doesn't complicate everything with a massive ego. Andy Tauer is basically a regular guy; bit of a boffin (PHD in chemistry says so) who worked in IT and made fragrances for friends and family as a hobby. He's not a bullshitter, he's not trying to convince anyone his products were passed through the eye of a needle at midnight by scented elves, but my goodness he is coming up with some pretty amazing fragrances. His blog, www.tauerperfumes.com/blog is now legendary in perfume circles (and is what put him on the fragrance map after it was discovered by Luca Turin) and really was the key to his success. Charting his journey from fragrance hobbyist to radical perfumier, it's fascinating. And, he's just basically a very, very nice man. We wanted to chat about our shared love of rabbits (mine both met a disasterous end), but a) the PR quivered with horror when we diversified away from the set menu, and b) there was another journalist there who looked like he wasn't really a rabbit man, so unfortunately bunny tales will have to wait. But, I think that illustrates the point that he's such an affable, pleasant guy that you can just chat about such randomness and he was perfectly happy. Try that with someone like, say Serge Lutens, who is now so far into his own ego that he's taken to refusing to tell anyone what's actually in his fragrance. A concept that clearly he thinks is reclusive and exclusive, and I personally think is ridiculously pointless.
Right, back to Andy. The perfumes. Okay, there are eight scents, all of which could be described as contemporary. My tie-favourite; La Maroc Pour Elle is so heady, so flamboyant and so weighty that it's is almost unbearable…but that's the point – it isn't quite. A bit like a man you keep going back to, even though you know he's bad for you; every common sense tells you no, but you're drawn and drawn. So, I can't ramble like this about every fragrance so I'll zip through the next two…L'Air du Desert Morocain and Reverie Au Jardin – both beautiful, imaginative and intensely wearable. Then there's Lonestar Memories. A backdrop of tar macadam notes, bonfire remains, carrot seed and main culprit for this collision of dryness, Birch Tar. It's the Marmite fragrance in the pack. Next up, Incense Extreme – I didn't find it as extreme as its namesake, but then I was probably still reeling from La Maroc. Incense Rose, however, is freakishly fizzing, powdery, rose laden and woody all at once, and completely remarkable. I've never smelled anything in my life quite like this. If I had to liken it to an image, a memory or a vision, I'd bring forth an elegant eldery woman with a dominatrix past. There's really something about this scent that's old fashioned but wickedly forward. Finally, Vetiver Dance left me completely cold…nothing there for me, and Orange Star is gorgeously wearable, juicy, orangey and a backdrop of violet flowers wraps it all up into a bundle of smiles.
It's not cheap, any of it, (£90 a bottle) but it has never seen a factory production line (Andy makes all the perfume himself, at home), doesn't come with any high opinions of itself and will challenge every olfactory expectation. It really doesn't come much better than this.
At www.lessenteurs.com from mid-July.
Transparency Disclosure
All products are sent to me as samples from brands and agencies unless otherwise stated. Affiliate links may be used. Posts are not affiliate driven.