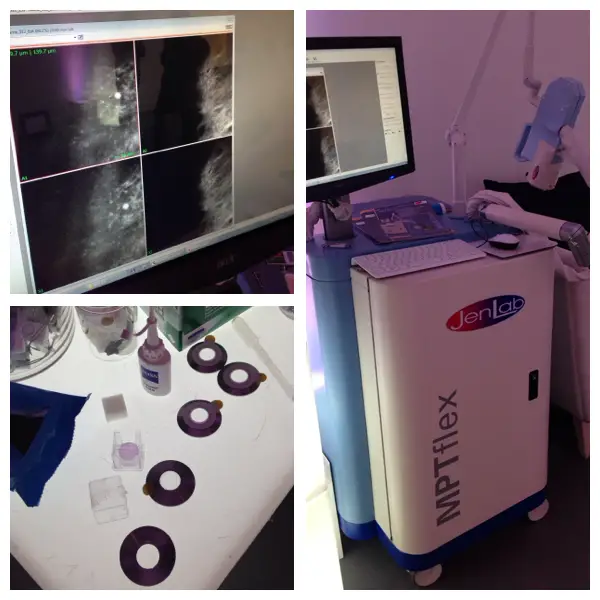 Having your skin analysed layer by layer is the strangest thing but that's what happened today using the very clever machine above. I actually saw my skin cells (and some melanin) and then further on, elastin fibres. Much as I'm not *that* interested in the science of products, it was very interesting to see what the Olay scientists see when they're looking in depth at skin. This is all about skin energy, which I've touched upon in a previous post, but to quickly recap, comes from Cellular Bioenergetics, which is concept that is being widely used in the medical field for all sorts of things, so Olay, being experts in skin and not medical things, are using a similar technology for skin. The ultimate aim is of course, to find ways of making skin cells behave more youthfully. You can't turn back the clock and make cells younger, but you can, apparently, get them to behave in a younger fashion. Light looking cells are in much better nick that those that don't show up light on the scan.
This particular post isn't part of my sponsored Olay Regenerist Trail which I'll conclude next week (with a lovely reader offer) but I did pick up some surprising facts, the most interesting of which is that astronauts, apparently, have terrible skin after a year or so in space. They end up with all sorts of skin issues thanks to breathing recycled air for so long. I've obviously cancelled my trip to space.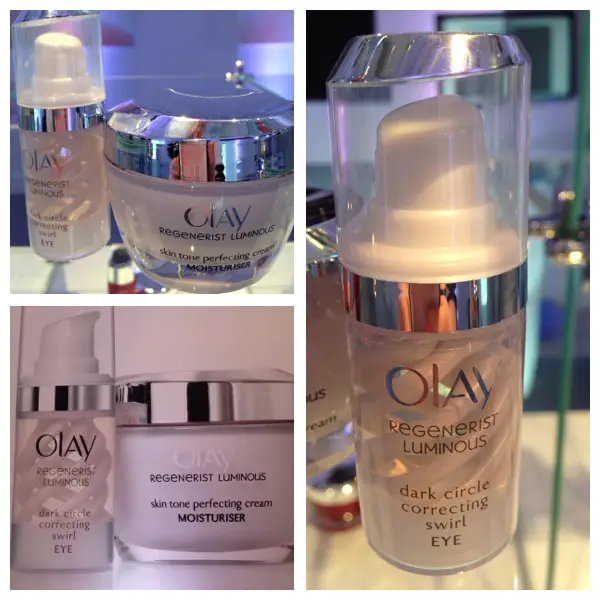 What I was really with Olay to look at is the new Olay Regenerist Lumious (Ruth over at A Model Recommends HERE is trialling it) with their very swishy looking Regenerist Luminous Dark Circle Correcting Eye Swirl. This range is all about skin brightening – another fact I learned is that even if you are using a melanin inhibitor (in the new product), you could still use melanin enhancing products (before holiday for example) because melanin inhibitors work on clusters of damaged cells (such as age spots or pigmentation) and not on the rest of the face or body. I'm not recommending that you do, but if you did, the two things wouldn't clash.
Olay Regenerist Luminous is for younger skin – ideally 25-34 – and contains the Olay cocktail of skin goodies: niacinamide (reduces excess melanin), N-Acetyl Glucosamine (evens out the skin tone by reducing excess melanin – i.e. pigmentation clusters) and OliveM, Vitamin E and Green Tea.
The range launches in April, so keep an eye out for it and check how Ruth is getting along with her trial.
Transparency Disclosure
All products are sent to me as samples from brands and agencies unless otherwise stated. Affiliate links may be used. Posts are not affiliate driven.