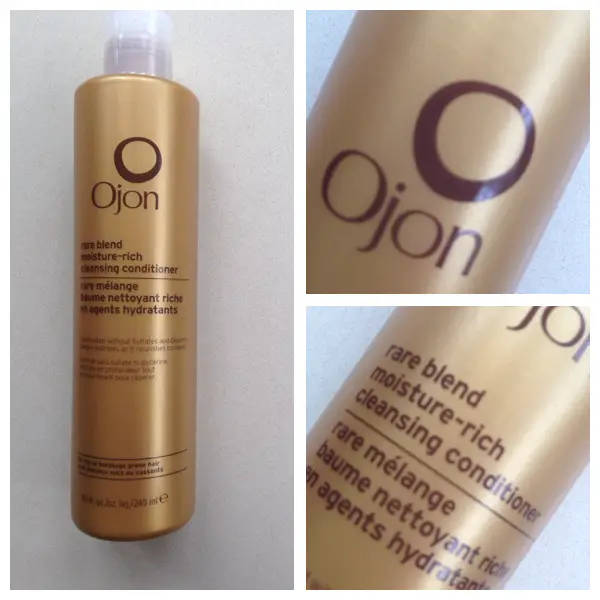 I've just had a go with the new Ojon Co-wash – Ojon Rare Blend Moisture-Rich Cleansing Conditioner to be exact! To say I'm delighted is an understatement. This has totally defied my expectations by giving a brilliant one-action wash and left me with hair that feels clean and looks shiny.
I have used the WEN system.. before really knowing anything about co-washing so I had no clue it was a 'thing' and didn't really get along with it, and another brand whose name I forget that I truly hated AND had to rewash my hair afterwards. When you're time poor that kind of thing is so frustrating. So, basically, Ojon Co-Wash is formulated without sulfates and glycerin so there is no foam which is odd to say the least. It feels like you're lightly conditioning your hair rather than washing it (which I suppose you are) and you leave it in either massaging or using a wide-toothed comb for 1 to 2 minutes. I found it rinsed really, really well and blow-dried very nicely too. I used the lightest touch of serum (Kerastase) before blow drying and I'd say the result is very soft feeling hair above anything else. Ojon Co-Wash uses a coconut derived cleanser along with Ojon oil, Tahitian Monoi Oil, Marula Oil, Kalahari Melon Oil – just LOADS of oils, so it's surprising that my hair doesn't feel over-oiled!
If you don't like the idea of co-washing, I'd suggest that Ojon Co-Wash is a very good place to start – it seems cleansing enough (although you don't get the 'squeak') that hair feels properly washed. The best thing about this is the time-saving. Mums will know that odd feeling the first time you leave the house without the pram – it's like you've left a limb behind. I got the same feeling with the Co-Wash; it was all wrong without conditioner and yet the result was all kinds of right. I'm an immediate convert. It launches on 1st April and it will be £21.
Transparency Disclosure
All products are sent to me as samples from brands and agencies unless otherwise stated. Affiliate links may be used. Posts are not affiliate driven.