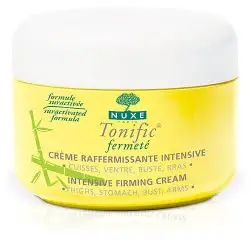 Amie was my tester for this firming body treatment cream that uses Lemon oil for its toning properties. Thank you Amie!Trial Duration – Approximately 2 Weeks
Ok, so I have a stateside holiday coming up pretty soon and my pale English wobbles have been hiding away way too long, so the thought of getting my bare legs and muffin top out (and we are talking Miami Beach here ladies!) is a horrifying thought that no amount of fake tan can appease! So you can imagine my delight when I am offered the chance to try out a new firming body product – Yes, please!
It arrived – The Nuxe Paris Tonific Fermete. Now, I have only ever come across this brand in pharmacies and must admit I have never been tempted to venture too far into it so I was unsure about what to expect. Packaging wise, the design was a little cluttered with text and translations & unaware of what the product was initially, it did take a moment to find the basic info – 'what is it & what does it do'? Good points on the packaging – clear instructions of use and the packaging is recyclable. It highlighted a good range of its natural properties with the bonus of no added paraben. Plus it promises quite the punch with a whopping 82% of test users claiming firmer skin.
Described as a fondant cream, the product looked pretty heavy duty and rich at first but was surprisingly lightweight and silky on application. A small amount did go a long way as I found out after lumping a huge dollop onto my skin in eagerness to get it firm! Luckily for me it does sink in really nicely without greasiness and doesn't take too much effort to massage into the skin. Further to the surprising texture of the cream, it had quite a distinct citrus scent. This initially came across as quite a pleasant 'lemon sherbet' fragrance but after a few minutes of massaging the product in, it started to take on a synthetic smell not dissimilar from a kitchen cleaner or air freshener. Not a deal breaker, but it does linger on the skin a while, unfortunately.
I did initially start using this just in the areas I wanted to target such as thighs, upper arms and tummy but it did progress to an all over application as it left my skin feeling silky and 'peachy'. It's not a hydrating moisturiser and sinks in very quickly so I did need to top up a couple of times with a regular moisturiser on dryer areas. I should note that I also have quite sensitive skin and had no adverse reaction or itching to this product. Another thing I should point out – I used this product on one occasion directly after an oil based body scrub in the shower and the Tonific Fermete did not like sitting on residue left on my skin. It rolled right off my skin in a weird flaking reaction – very annoying. So lesson learnt – apply to bare skin only!
After a week of using the product and massaging in by hand, I did start to use a wooden ball massage tool from the Body Shop on the thigh area – this really helped to get the product worked in and felt it helped boost the results! My skin soon started to feel much smoother and more evenly toned; but even after two weeks I must admit that 'firm' wasn't high on the list of adjectives I would use to describe the results, but its early days and I will continue to use the product and see out the tub! It's a lovely cream and I would recommend this product to anyone looking to improving the texture and tone of the skin to get it summer ready, but unfortunately its no saviour product and I wouldn't push it purely on its firming attributes.
Transparency Disclosure
All products are sent to me as samples from brands and agencies unless otherwise stated. Affiliate links may be used. Posts are not affiliate driven.