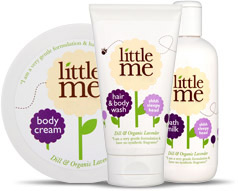 So, Boots took a knuckle rap from the ASA (Advertising Standards Authority) for labelling Little Me as organic on their website, when in fact, less than 5% of the ingredients in the particular product (a shampoo) are of organic origin. 
However, I'm thinking that perhaps it is Little Me themselves who need a telling-off. A) for calling their site Little Me Organics and B) stating that their 'adorable ranges' contain 'the safest and most effective organic ingredients…'. 
They may well do, but in such small quantity that the effects are likely to be negligable. New mums are probably the softest of targets for organics – everyone wants to do right by their baby. The only things in Little Me that are organic are some essential oils. Clever wording around the entire organic sphere is responsible for many misconceptions – organic candles? Don't get me started.. but that's another matter. Who has time to read between the lines? Not new mums, that's for sure. 
Little Me states that the range is created by 'lots of mummys who got together too create a range.. etc, etc..', and all the copy indicates gentle, natural and baby-friendly, with the use of the word 'organic' dropped in here and there. They don't lie and pretend it's all organic, but if you name your website Little Me Organics then it's not really a stretch to assume no further checking needs to be done.. you are going to think the products are organic. This is in much the same way that if you Google 'organic beauty', Liz Earle pops up – and that range is not organic. 

I think the trend for organics is waning anyway – there's really nothing wrong with just advertising as sls/paraben etc free, or products as natural as you can make them – there's absolutely no need to attempt to persuade your consumer that a teeny weeny bit of organic material in a much bigger non-organic carrier is helpful.



 
Transparency Disclosure
All products are sent to me as samples from brands and agencies unless otherwise stated. Affiliate links may be used. Posts are not affiliate driven.