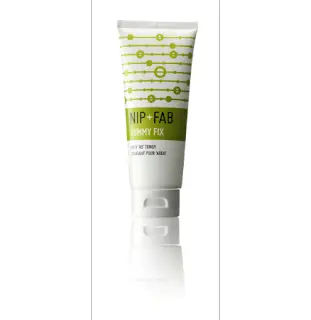 It's fair to say that I am intrigued by this brand that according to founder, Maria Hatzistefanis, is an 'affordable range that offers real results and an alternative to invasive surgery.'  Hatzistefanis is also the founder of Rodial, a brand that offers products such as Tummy Tuck that apparently whittles away centimetres from the stomach using 'stomach flattening micro fibres' for a cool £100 per bottle. Now Nip + Fab's Tummy Fix Cream sells for £18.95 and claims to reduce 'abdominal girth' by 2.5cm after 6 weeks. Well, how odd. Because Rodial Tummy Tuck claims to do exactly the same thing – in fact, according to the Rodial Web site, a little less. It's only offering to reduce the abdominal area by up to two centimetres in 8 weeks, so despite paying over £80 more you can expect 0.5 of a centimetre less. I also notice that 'Crash Diet Sticks are coming soon to the Rodial Website. Because, that's exactly the kind of dieting we want to encourage, isn't it? Not.
So here we have two brands from the same owner with one claiming to do even more in less time for under £20 than the cream at £100. It does not make sense. I'm not a business woman, but why on earth would you allow one brand to cannibalize the other? Rodial hit the news last week for lodging a legal objection against a medical doctor, whose professional view was that a Rodial product he was asked by The Daily Mail to give his opinion on may not be able to produce the claimed result (Rodial are hot on 'clinical trials' but if you search on their site under the term 'clinical trial', it produces nothing). But that aside, I think either way we're being had. What helps you to lose weight is the fairly basic equation of input vs output. If you're eating a lot and want to stay slim, you'll need to exercise a lot in order not to tip the scales. The notion of rubbing some caffeine (or similar) laden cream into your fat in the hopes it will disappear defies credulity. If there's any effect at all, it can be nothing but temporary unless you curb what you eat for good. But men and women with weight issues will go to any lengths and expense on a 'promise', and it's heartbreaking really. Walking to the shop to buy your 'waist whittling' cream will probably do more to tone than the cream itself. While we all know that such product claims exist, and we all hope they'll do something – well, anything – I've got an uneasy feeling about the ethics of someone who produces sister brands claiming in some cases to do exactly the same thing and yet the price disparity amounts to over £80. Words fail me. What I will say is that I have never yet met someone who has lost significant weight and puts it down to a fat reducing cream and there is nothing Fab about that. As for the implication that cream can offer a realistic alternative to cosmetic surgery…just irresponsible, really.
Transparency Disclosure
All products are sent to me as samples from brands and agencies unless otherwise stated. Affiliate links may be used. Posts are not affiliate driven.