It's a hair kind of day! A while back I sent Nioxin products out to two readers to trial. Both had thin hair and wanted more volume and thicker, easier to style hair. And, the people at Nioxin knew that it was a bit of a risk because they know I will report back exactly with no fluff. So, as it turns out, Nioxin worked extremely well for one tester and not well at all for another tester. I feel it's quite a brave move for Nioxin to be prepared to take it on the chin and to take the learnings from no-holds barred reader tests in a public arena, especially as this has been a sponsored campaign.
So, first up, Jackie, a BBB reader's mum, who sent the best feedback report I've ever seen! It was very detailed so I'm cutting it down to the key points. Jackie used Nioxin Range No3 for Coloured Hair.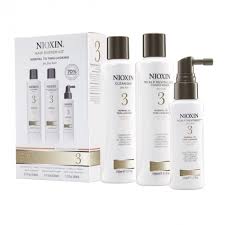 "I have thinning on the front section of my head and side parting.   Generally I do not wash my hair every day (because of fade to colouring) but tend to wash it every other day. During this trial however, I washed my hair more frequently than usual. Looking at the box itself, it looks like a salon product. Basic pictures of the products themselves and simple descriptions. No usual hair product photos of people with lovely thick glossy hair! The instructions were really clear and easy to follow. The size of the products was a little disappointing because if I were to use them routinely on a daily basis as suggested, and indeed as I more often than not did throughout the course of the trial to enable me to make a fair assessment, then they would not have lasted me very long at all. 
These particular products have a peppermint oil smell to them which didn't make them initially attractive to use but suited the promise of a more specific type of hair product that was going to cleanse the scalp and hair of dirt and oil. This made me think of the products as more of a 'treatment' than a' treat' for my hair. After use, my hair felt instantly clean. I did not feel it necessary to shampoo again. I found it easier to squirt the final product roughly all over the head and then rub it into the scalp with my fingers that 'direct' the spray – not easy to do. After about 10 minutes I then applied my normal hair styling mousse to the hair and continued to style and blow dry. Initially there was a noticeable change in the texture of the hair. Whilst drying, my hair felt as though it was squeakyclean. It felt as though there was none of the usual conditioner residue left on the hair and it felt quite dry. Styling was more difficult. Several times my fingers caught in my hair and did not glide through as normal. I would say that the style held quite well for the entire day because it felt somewhat thicker but it also felt a little woolly. I also noticed that there was reduced shine to the hair. 
On subsequent occasions, I followed the same routine and styled in the same way. On one particular occasion during the next week or so I did in fact try blow drying my hair without using any other styling product and was disappointed that the effect was not the same using just these products alone. My hair was flatter and therefore looked just as fine as it did before using Nioxin, so I resorted back to using styling mousse along with the products.
Overall I cannot say that using this product has made a huge difference to the texture of my hair. The thing I liked most about the product was the feeling of complete cleanliness of the hair after using the products, although I would compare it to perhaps using a product like Head & Shoulders (which I haven't used for some time – again for colour fading reasons), but the squeaky clean feeling I believe was similar.
In conclusion, I have no idea what the actual price of the products are but I would only be prepared to pay something in the region of £15 – £20 for the set of three items. There was not enough difference in the result, in my opinion, to warrant paying any more for them. That said, if I were offered this as a 'deep cleansing and thickening treatment' as a 'one-off' in a salon environment then I would perhaps expect to pay a little more and wouldn't expect the results to last far beyond the next wash. Having now trialled Nioxin, and having now returned to my usual regime of products, I think it would be unlikely that I would purchase the products for myself as I believe that there are similar products already on the market that do a comparable job and that would probably cost less."
So, clearly for Jackie Nioxin Range No3 for Coloured Hair didn't meet her expectations. For my next tester, Emma (and for disclaimer reasons, I do know Emma – she is an ex-colleague who has battled with thin hair for as long as I've known her!) it was a completely different story. She uses Nioxin anyway and has done so for over a year but her challenge was to trial the newest product, DiaBoost, an extra thickening treatment designed to make hair more resilient to breakage, along with the three step system, like Jackie.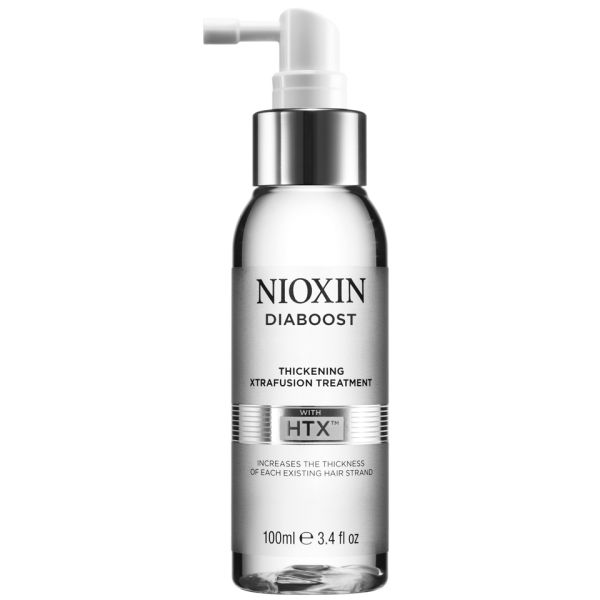 "Nioxin has a lot to answer for in my life. This uniform, almost medically packaged product is wholly responsible for not the current health of my hair. Before I started using Nioxin, my hair was not only super-fine but also incredibly brittle and very hard to keep in any sort of fashionable style without it limping feebly away from me. No matter how much mousse, hair spray and Batiste XXL I applied, I could never keep a style in place and my efforts were felt by me (emotionally!) and, of course, by my hair (which got worse and worse quality with each attempt). I was approached about a year ago to try the 30-day trial kit that Nioxin recommend and I tentatively accepted the challenge and have stayed with Nioxin ever since. 
The recommended three product/step system includes a Cleanser, Scalp Revitaliser and a Scalp Treatment, all of which are aimed at 'retuning' the growth of your hair following these simple steps; Cleanse, Optimise and Treat. They have established three main causes of thinning or poor quality hair, and the have aimed to address them by reversing the negative effects of your scalp's environment (excess sebum and dead skin cells), the growth cycle (preventing interruptions to this and encouraging healthy growth) and lastly, the structure (combating the effects of chemical treatments and age).
I used this three-step treatment for the first time a year ago and now use it inmy standard hair regime (although I only use the Scalp Treatment once a week now). There is no doubt that styling is easier and there also seems to be a lot more hair, leading to believe that they really weren't talking guff about how the products 'retune' you hair growth (which is what I originally thought if I'm honest!). My hair grows so quickly now I need to have it cut every 6 weeks compared to every 10-12 before!
Recently I was given their brand new product DiaBoost, which promised to serve as an extra thickening treatment that makes hair more resilient to breakage with caffeine, Panthenol (apparently excellent for penetrating and hydrating the hair strand) and Dimethicone (which acts as a protective polymer). I've been using it for two weeks now and am impressed, less for the thickening abilities (I think I would need to use it for longer to see the full results there), but for the great hold and body it gives to styling. I blow-dried my hair the first time I used it and it stuck all day, very impressed!
I would 100% recommend Nioxin to anyone that suffers from thin, limp or lacklustre hair; take no notice of the medical-looking packaging or clinical descriptions. Put it this way, if they came in the Percy & Reed packaging, these hair treatments would be best sellers. I can vouch for it and so can my Mum (who had thinner hair than me and is a complete convert to the stuff – Nioxin, if you're looking for a replacement for Sophie Ellis-Bexter as spokesperson, Mum and I are definitely available). "
So, two completely different experiences for Jackie and Emma and serves to prove what I think we all know anyway, beauty is a whole game of trial and error and what is magic for one person isn't necessarily so for another. People are not uniform.
Transparency Disclosure
All products are sent to me as samples from brands and agencies unless otherwise stated. Affiliate links may be used. Posts are not affiliate driven.