Right.. we're all loving the Olympics and especially loving our girl Rebecca Adlington; one of our truly stupendous athletes (a swimmer, for those not in the UK) who has done us proud. We could not have asked for more. 
A quick scan through the newspapers and her pictures have been everywhere – it's not even the 'certain type' of newspapers that have focussed on her nails – they all have. There's no debate from me that the nails on the Olympic competitors look wonderful – I love that female athletes aren't afraid to show their feminine side and I guess if you are a swimmer, mascara is a no-no.. so what better than glamming up your nails?
But, in amongst all this achievement and beauty mix, there's a rather miserable story of corporate sponsorship out of hand and turning a minor detail into a major issue. And I don't mind admitting I am cross about it. 
So, I'm telling this in the briefest possible form, because it's insulting to Rebecca for a start to focus too much on anything other than her achievements. BUT, the truth is the truth.
"Random tweet about Rebecca's nails looking like a certain brand of nail wraps… Response to tweet saying that they were hand-painted…A post is written on BBB saying they look like wraps…a PR email arrives swiftly next day informing me that Rebecca's nails are hand-painted…I argue the point because I have a packet of nail wraps exactly the same sitting on my lap because I am pretty damn sure..they argue back…I point out that there is no technology that produces a shiny foil silver in nail polish and certainly not in the sponsor's line-up of shades…they then believe they might have been misleading in their previous emails. Our swimmer picks up her bronze medals with masses of pictures of her nails…Pictures distributed everywhere suggesting they're hand painted. More tweets (not from me) about no foils on any swimmers…No stories are corrected anywhere even though by now there are millions of viewers thinking they might be able to paint their nails to that quality with a little practice…Our swimmer appears on the medal podium only a couple of days later to pick up a second medal with nails now hand-painted in the Union Jack..need to correct, confirm, deny now negated…only not really…where I come from it's called pulling a fast one."
And, if you think I am mistaken (I am still prepared to concede that I might be) take a look at these pictures below.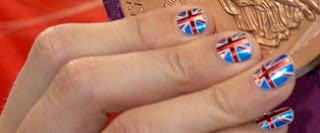 Medal 1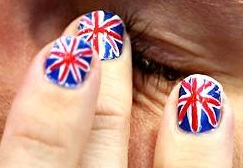 Medal 2
It's quite honestly the stupidest, stupidest thing I've ever come across in PR history (or maybe not, now I mull it over, but close) and while you might well want to protect your sponsorship, there is now a wealth of misinformation all over the internet, from The Daily Mail to Elle.co.uk, and no matter what, even if it's only nails, in journalism the truth does matter.
Transparency Disclosure
All products are sent to me as samples from brands and agencies unless otherwise stated. Affiliate links may be used. Posts are not affiliate driven.