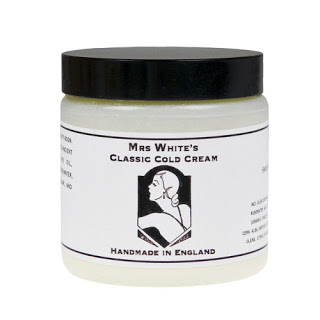 My childhood memories of my grandmother, and subsequently my aunt, applying trowel loads of cold cream at night is one that has never left me. In particular, my aunt used to literally plaster it on, and then remove it with tissues – one of the most ineffective ways of getting rid of any residue (other than nasal!) – because she was far too mean to splash out on cotton wool. However, she did have extremely beautiful skin. Whether that was genes or cold cream, I'll never know. But traditional cold creams, around for centuries, were completely reinvented by commercial companies into some kind of hellish mineral oil laden gunk, whereas the true origins of cold cream were naturally based.
I'm fascinated by Mrs White's Classic Cold Cream that has been formulated to a recipe from 105AD! Invented by Galen, physician to five Roman Emperors (memories from history lessons at school remind me that Emperors didn't stick around for long largely because they met a gruesome end), it contains organic cider vinegar which has the same Ph as skin allowing the other ingredients to absorb more effectively. It also contains olive oil, British beeswax and Rose Absolute amongst other naturally based ingredients. The formula is a far cry from the gluey white unguent that we commonly think of as cold cream. It is in fact, a yellowish substance that is loose in consistency and feels far lighter than you'd expect. The smell is what I can only describe as Neal's Yard Remedy-ish; an earthy floral-herbal mix. Thanks to the looser consistency, removing your make up with it is an easy process and I'd liken it in performance to a balm cleanser. It's perfect for winter time when skin takes a battering from the elements and central heating and reapplied as a night cream, leaves a barrier that means your skin doesn't dry out as you sleep. I used it lastnight, and woke up with soft, hydrated skin.
I like the whole Mrs White range (not least because it's tested on the mysterious Mr White and never on animals) for its unfussy nature with formulas that actually do deliver – the range is mainly ecologically household cleaners (although I would question whether anyone actually needs a wooden rubber glove dryer which I spotted on the web site) with fab names – Smiling Tiling tile cleaner, Swatnot fly spray and Storm in A Teacup washing up liquid, and the astonishing Leg It spider deterrent, for example.
Classic Cold Cream is £20. http://www.roullierwhite.com/
Transparency Disclosure
All products are sent to me as samples from brands and agencies unless otherwise stated. Affiliate links may be used. Posts are not affiliate driven.