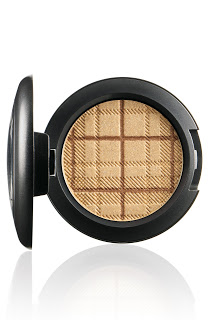 If you remember, there was some confusion last week about whether the tartan stripes on the actual make up in this collection was an overspray or went all the way through. I was told categorically that it did run all the way through the cake. However, thanks to the eagle eyes of another blogger (the amazing Temptalia), this didn't seem to be the case. MAC fans flinched when I carved up my Tartan Tale eyeshadow to get to the bottom of it once and for all. And, sure enough, the stripes did not go all the way through. So, how could it be that I had a statement from MAC Product Development insisting that it did? We've all been there, folks, but it was simple human error. For some reason, they'd misunderstood and thought I was asking whether the colour went all the way through – on the packaging. Why I'd ask that is anyone's guess, and why anyone would care whether it does or doesn't is another thing entirely. But, they've put their hands up to the mistake and so I'm pleased to publish a statement from them.
"We apologize for the miscommunication in describing our Tartan Tale product. Our initial response addressed the outer packaging of the compacts rather than the single eye shadow you were referring to.
Below is a response on your initial inquiry of the decorated powder eye shadow from our Product Development team.
'The tartan pattern on the powder is a shallow treatment which goes below the initial surface of the powder, but not all the way to the bottom of the pan. The product is an ultra-fine and micronized pressed powder eye shadow with low to medium build-able coverage that highlights the eyes and makes them glow with brilliant accents. The formula is super flexible and allows several shades and multiple pressing effects to decorate the powder.'"
Transparency Disclosure
All products are sent to me as samples from brands and agencies unless otherwise stated. Affiliate links may be used. Posts are not affiliate driven.