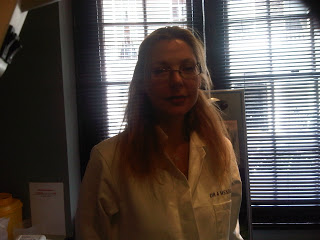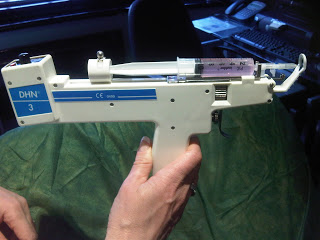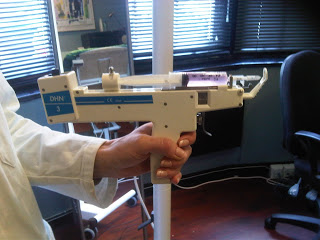 I can quite genuinely say I had a very nice time at my MesoTherapy appointment at Dr Sebagh's London clinic. I met a lovely lady in the waiting room (who had clearly had quite a lot of er, work) and we chatted away about arm fat and so on so much that I didn't even notice that my appointment time had run half an hour late. When I did get called through – after a raft of form filling and a cup of coffee – I met the lovely Dr Mendelovici; white coat and a tres sensible attitude (pictured). She explained that my skin wasn't particularly dehydrated but my issue was more hyperpigmentation and lack of glow. I had to agree, although I have mixed feelings about the general hyperpigmentation issue – I've seen faces utterly devoid of sun marking and frankly think they look weird, deadened and un-natural, so I'm perfectly at home with the odd sun spot or two. The cocktail of vitamins is prepared in a bespoke way, with more of this and less of that, depending upon what your skin issues are. Dr Mendelovici mixed away and attached the syringe full of er, stuff, to the massive great big gun (pictured). At this point, I must admit to a gulp: ok it was a whimper. But, as she worked around my face with multi-pronged needles interspersed with massage, delivering the vitamin filled fluid I can honestly say that 'mild discomfort' is about the strongest terms I can put the treatment in. It was really nothing. It is slightly more sensitive around the mouth and chin but you couldn't describe it as pain because the needles merely touch the skin, rather than being insterted to any depth. And, more importantly, my skin didn't look full of holes afterwards. Other than looking a tiny, tiny bit redder than usual (but I have a tan so it really didn't show) there is no discernable difference to my skin. I need, ideally, to have two further treatments (yes, I am booking them right now!) for the best possible 'glowy' outcome but I will need to wait at least a week until I see any visible results from today. The treatment costs from £250, depending upon what mix of vitamins you need. A big part of this treatment is having faith in your practitioner…I'd never met Dr Mendelovici before but she quickly put me at my ease and we even ended up having a fit of giggles as I tried to take pictures of her leaning over me – she was not keen to have such a close up of directly up her nose posted on the blog. I can't say I blame her!
Dr Sebagh's clinic is at 25 Wimpole Street, London.
Transparency Disclosure
All products are sent to me as samples from brands and agencies unless otherwise stated. Affiliate links may be used. Posts are not affiliate driven.