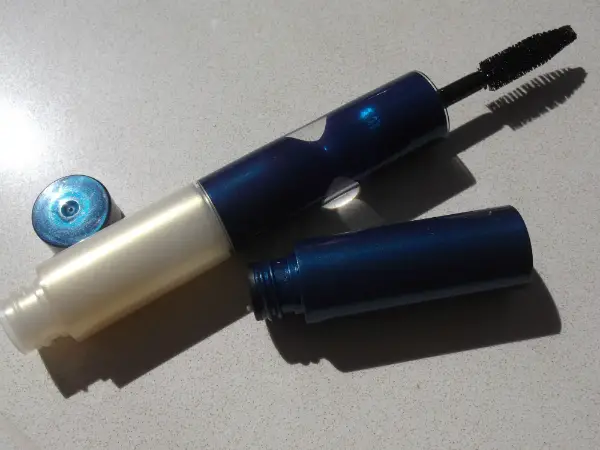 Sometimes you get a vibe from a brand if they're really excited about a product – brands at Max Factor level push out a huge amount of product, so I can imagine that behind the scenes it's going to take something special to get them really excited, too. I am definitely getting a that vibe from then.
As you know, we went to Ibiza to road-test the Lashfinity 3 Day Mascara – a beautiful location to have a presentation and put the product through its paces.  I cancelled my lash insert appointment so that I have some bare lashes right at the ends on the upper lids and also my bottom lashes are bare. I knew it was mascara we were seeing but had no idea it was a three day one.
So, it's now 3 days – and yes, on my bottom lashes I am still seeing signs of it there. There is no clumping (the formula doesn't allow for that) and I would describe it as a tint-with-body. Day one will always be your best day; day two it was still there although I did a sneaky reapply on the side I'd slept on (if you sleep on your back you won't have any disruption in performance but if you sleep on your front like me with your face wedged into a pillow then I think it is realistic to say that you won't get such a high performance from the product) and Day 3 the product is starting to fade but will easily see you through as a light day look.
Feedback on Twitter and here has been mixed – it's one of those things you really have to try to know if it's right for you, and I totally get the confusion on it, but my suggestions for where it comes in handy are:
1. Exercise. When you don't want to look made up but just naturally blessed with your lashes. And.. star jump.
2. Avoiding 'plane face'. You're going long-haul and know by the end of it you'll be smudged to sickbags.
3. Weekenders. If you think your Saturday night out might turn into a breakfast meeting, shall we say, it's nice leave that meeting with dark, fluttery lashes and no waxy smudges all down your cheeks. Nothing says stop-out like post-party eyes.
4. The Beach. The mascara will see you through a beachy day, volley-ball, body-boarding and all.
5. The Make-Up Shy. Not everyone wants massive lashes; they don't want to look over-done or have the hassle of flaking (3 Day won't flake at all) and correcting. This is, I think, the market for 3 Day; people who want to look naturally lucky with lashes.. it gives inky black lashes with definition.
6. Boys. This is the most perfect boy mascara although I don't think that's occurred to Max Factor at all. But, it's more and more common for boys to want dark and enhanced lashes – and why not! This is the ideal mascara for them because of the tint and longevity – it will last through a post gym shower and the work-out with no tell-tale mascara wear signs.
Personally, I think if you are die-hard massive lash mascara user, this is a 'store-cupboard' item for any of the above reasons. For me, with extensions on top lashes, it's ideal to have a no-hassle tint on the bottom lashes – the whole point of extensions is not to have to worry about mascara but if you still need it on the bottom row then you do still come up against mascara problems.
Transparency Disclosure
All products are sent to me as samples from brands and agencies unless otherwise stated. Affiliate links may be used. Posts are not affiliate driven.