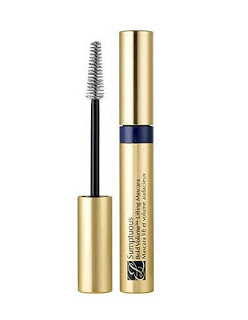 www.BigFashionista.blog.uk tested Estee Lauder Sumptuous Waterproof Bold Volume Lifting Mascara (not yet on counter).
First impressions of this mascara is that it is very classic packaging, the silvery blue and gold give you a feeling of luxury before you even use it.
On the Waterproof side of things, this mascara is everything and more that I could've hoped for. I showered in it, cried in it and even slept in it and nothing was shifting it! In fact maybe it was slightly too waterproof as even with my eye make up remover it still needed some rubbing to totally remove.
The colour of the mascara was a very rich black which as in the "Bold" of the title really rang true to me. The colour definitely made my eyes pop and gave me almost a discreet false eyelash effect. The tapered brush of the mascara made it easy to apply, but I did find that the brush picked up a bit too much of the product each time meaning I had to wipe the brush before applying, otherwise I experienced a clumpy effect. However, this did not detract from the mascara. I only needed one coat of this mascara to make my lashes look good, and with two coats there really was volume and lift to my lashes.
Overall this is a great mascara. Would I repurchase? Definitely. Would I recommend it? Most definitely. This does exactly what it says it does and looks great as it does it.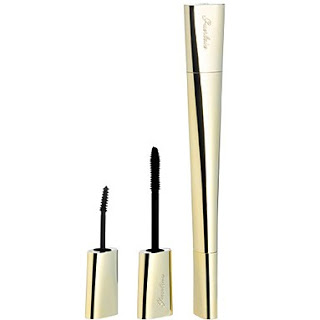 Emily at www.pyxie-love.blogspot.com tested Guerlain Le 2 Mascara, £24.
There is a lot to like about this mascara from the stylish packaging down to the promise of 'generous volume and extravagant curve'. This is a double ended mascara, however you do not need to use both ends. Brush 1 is a regular mascara wand brush 2 is a much smaller, fluffier brush for adding a 'Vinyl effect to fix and intensify'.
Whilst I like the stylish, sleek packaging I do feel that the mascara packaging is quite long and wouldn't fit in to my make up bag but I do like the practicality of the flat lids, which made it easy to hold when applying. The mascara itself was very lengthening and I was impressed with no clumping. It also coated my lashes well and even covered my inner corner lashes which is where I give it a thumbs up for volume. The mascara dried quickly and added a slight curl.
I didn't see any benefit to adding the second coat with the smaller brush: it did not noticably intensify or add a vinyl effect. This was time consuming and not good for someone like me – who is often in a rush! After looking online at other Guerlain mascaras I used the smaller brush to coat my lower lashes and this worked perfectly. I experienced no flaking and would say this mascara was long lasting. I removed this mascara with ease using my cleanser. Although I loved the effects of the main product and will continue to use this mascara I don't think I would purchase this particular Mascara myself but I am curious to try other Guerlain mascaras.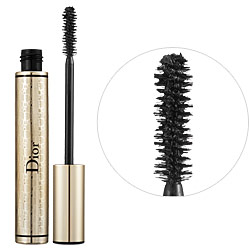 Amy-Louise at http://lipgloss86.blogspot.com tested DiorShow Extase Mascara, £21.50 (launching any day now).
'High end' mascaras have never really wowed me. I have tried a couple in the past and not been overly impressed so decided to stick with the mid range where I know I can get the results I want and need. Dior Show is a mascara that is spoken about a lot and has tempted me, and not just because the tube looks nice!
Sephora's website says- 'DiorShow Extase provides built-in treatment benefits and high-impact lashes in a single stroke! The spherical-shaped Black Pearl Pigments create a 3D volume effect and the exclusive Metamorphosis Powders expand in size by up to 50% after application. Also, SR38 Patented Ceramid brings additional care, reconstructing damaged lashes and promoting stronger and fuller lashes. So you could say, similar to L'oreal Lash Renewal Mascara? The brush itself looks like 4 balls of natural bristles put together. It has the same formula as L'oreal Voluminous and Maybelline Volume Express.
The first day I tried it, I used it on its own and was impressed. The brush grabbed my lashes and lifted them without the help of a really hard/dry formula to hold them in place. After a long day my lashes were still in place and my eyes were not dry or irritated. Day 2 and I decided to load up the mascara – again nothing bad to report apart from I did get some crumbled mascara under my eyes at the end of a long day. Disappointing, as I really love the effect it gives. Day 3 I used Max Factor Lash Extension first and then used the Dior as a second coat. No flaking. So the key for this mascara to work for me is to either settle for one coat or layer it up with something else! It provided an effortless wide eyed look.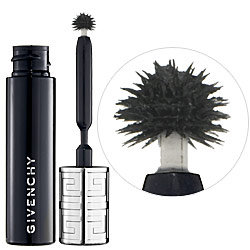 @MillyBird Tested Givenchy Phenomen'Eyes Waterproof, not yet on counters and gives it 9.5 out of 10!
The applicator is very unusual; it looks sort of like a very small thistle!!
The instructions show how to apply which is really useful and had obviously been thought through. I would normally curl my eyelashes. It was quite hard to judge how far to go into the lash when applying, but after a few strokes it was easier. The second day I applied it seemed to be much quicker as you quickly get used to the brush. My lashes were thicker, blacker and more separated and it has defined and made my eyes look a lot bigger, and my lashes look longer, although they haven't 'curled' as much as they do with a curler – they are definitely more striking. The staying-power is excellent, with no 'panda-eye' from 9am through to 10pm! It is also fairly easy to remove with wipes.
For 'everyday' I would most definitely wear this as it stayed put all day! I wouldn't curl my lashes on top of using this as I think it could be a bit OTT for me but on a night out, I would always use a curler for the full effect.
I would definitely recommend this product.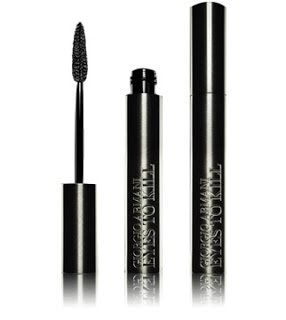 @Ceona Tested Armani Eyes To Kill Mascara, £21.
I love mascara and very excited to try this offering from Armani, not least because I didn't even realise Armani did make up.
Armani Eyes to Kill promises "length and volume lash artillery" on the box. My lashes are a little too short, a lot too thin, and way too blonde. I require a lot from a mascara; artillery sounds about right to me. I am not ashamed to admit I let out a little gasp of delight when I opened the cardboard box containing this mascara – I've never owned a prettier mascara. Sleek, sexy, grey metal tube, embossed writing, and the most satisfying little clunk when you close it. Love it.
The brush looks like a fairly standard mascara brush. Long, medium thickness, bristley. I'm not a fan of thick wands, as I end up with mascara all over my eyelids when I wield them. I was slightly expecting something fancier looking, but thinking about it I've never been a huge fan of the gimmicky brushes, just give me one that works. On closer examination I'd say this looks like it has a lot more bristles than the average mascara brush, which may account for the next results.
My eyelashes are blonde and when I say blonde, I mean white. They lack all pigment. This means any mascara really has its work cut out on me. I need to build the coats in order to colour my lashes in and am therefore very prone to spider lashes, which I hate. Eyes to Kill worked brilliantly for me. I was able to build the coverage up with a few strokes while avoiding that clumpy spider look. It left my lashes looking noticeably thicker and longer and also gave fantastic separation. I swear it looks like I have twice as many lashes compared to my current everyday mascara, which I have to put down to all those bristles. No need to comb through, no funny clumps on the end, just long, thick, beautiful lashes. I'm a contact lens wearer and had absolutely no irritation using this mascara. I thought its long-lasting power might make it difficult to remove, but it came off easily with my normal gentle eye make up remover.
Overall, I absolutely love this mascara, it does everything I want. It gives me long, thick eyelashes without clumping, even with repeated coats. It lasts all day but comes off easily at night. What else would you expect from Armani?
Transparency Disclosure
All products are sent to me as samples from brands and agencies unless otherwise stated. Affiliate links may be used. Posts are not affiliate driven.