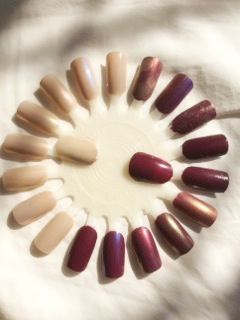 I am so happy to write this post – ages and ages ago, I went for a manicure and a catch up with Marian and we had a misunderstanding in the conversation where she thought I already knew about her collaboration with MAC, when I didn't. So inadvertently the secret was spilled and I was practically bouncing off my seat with excitement. Obviously, I was totally sworn to secrecy (which is somewhat different to an embargo, when contracts, etc, are at stake).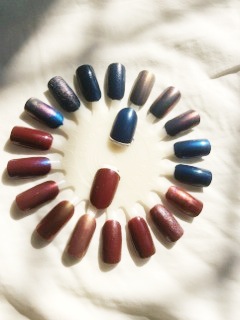 I have followed Marian's work for such a long time – she's one of  very few artists in nails or beauty whose work I actively seek out to look at. Over the years, we've got to know each other a bit, and one of the pleasures of a blog is that you get the opportunity to tell others what people are really like – in a nutshell, she is just lovely; funny, down to earth and approachable. She's manicured the famous; male and female, she's always in demand to create looks for all the major fashion shows, and she's a dog lover.. that seals the deal! And she works so hard; Marian has been a name in nails for a very long time and mentored and trained so many young nail artists, so a collaboration of this magnitude has been far too long in coming, but so well worth the wait. When good things happen to good people, it's a celebration!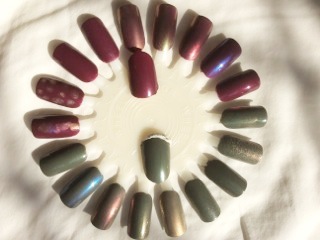 I've got Marian's working nail wheels as pictures which are more interesting to me than any promo pics, and I'll explain the range as best I can (because I haven't seen them in the flesh yet).
So, the main line is the Nail Transformations that launch in June/July (tbc); a range of six polishes that can be used alone, but transform colours when used over any other shades. There is also a texturiser with a leather finish which means you can add a tactile top coat to any colour. There's a Highlighter that makes colours pop and takes them up a couple of shades (or when used alone makes nude nails flash blue in certain lights). Shader takes any colour down a shade or two, and then there are three Liquid Pigments in Green Opal, Pink Opal and Gold Opal which transform any shades – and often never in the same way twice. The overall theme looks ethereal and galactical.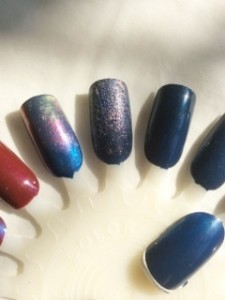 Then we have six fall collection colours for August, collectively known as A Model Romance; six black dipped shades to take them "off" colour, but this time they come with 3D special effects..so they're not shimmers, they're creams with depth. I think from the sneaky peek pics that you can see how exciting the Marian Newman Transformations For MAC looks. July seems a long way off!
Sharon and Kelly? Not interested. Simpsons? Not interested. Marian Newman Transformations For MAC? So, so interested!
Transparency Disclosure
All products are sent to me as samples from brands and agencies unless otherwise stated. Affiliate links may be used. Posts are not affiliate driven.