I'm all over magnetic nails.. absolutely love them.. and they are show-stoppers – I can't tell you the number of times that people have stopped me to ask what I have on my nails. It's a really stunning look. BUT, it has been playing at the back of my mind whether all the ranges bringing out polishes are the same stuff in different bottles. And, today, I discovered that yes, it flipping well is. Certainly in the case of Boots 17 and Filthy Gorgeous. Remember that these will be sold at different prices in different stores, so it's a little bit galling that they couldn't even be bothered to change the bottles. Same product, same bottles. I only found out because I couldn't find my 17 sample so went for the FG instead. Then today, when I did find the 17 sample to swatch it, it was exactly the same in both swatches. I'm not sure how I feel about this.. Filthy Gorgeous is selling theirs, named Got The Blues for £12 in October, and Boots 17 is selling theirs for £5.99 from 21st September. Which now makes me wonder about FashionistA and Nails Inc.. both at wildly differing prices too – I wonder if that is also the exact same formula and the same colours.. because they're all coming in as sludgy shades that look mighty similar. I will say that I do like the colours.. all of them, and the blue in the swatch is a clear favourite.
So I guess the message is, mind what you pay for exactly the same size bottle, the same formulation and the same colour. There must be a metallic polish formulator somewhere rubbing his hands with glee as all the brands steam in to find different names for the same thing. That has to be amusing in formulating circles.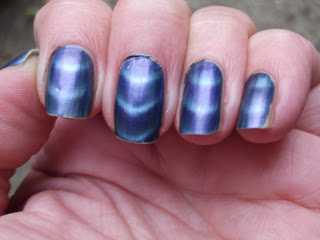 Filthy Gorgeous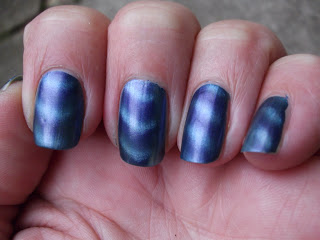 Boots 17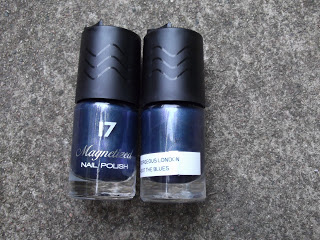 side by side
Transparency Disclosure
All products are sent to me as samples from brands and agencies unless otherwise stated. Affiliate links may be used. Posts are not affiliate driven.