I've got to admit that Lush isn't one of my favourite brands – everytime I get a bath bomb through the post it makes me sneeze. Funnily enough, when I phoned the Lush Press Office to check on a couple of details about these soaps, as soon as they answered at the other end – I sneezed! So, now I think maybe it's psychological.
Anyhow, that's neither here nor there. What I really AM loving from Lush are these gorgeous, coconut scented soaps that are made with all proceeds going to a charity called Peace Boat (www.peaceboat.org) who are organising teams of volunteers, transporting aid and cooking hot meals in the disaster zone. What I really like about this is that the only part of the money that doesn't go directly to Japan from the £5 cost price is the VAT, which by law has to go to the government. Meaning it's a pretty good chunk that goes where it is most needed.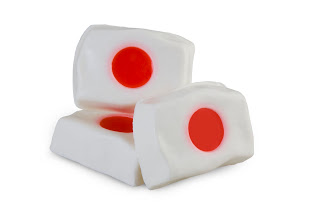 If there is one thing I can't stand, it's when brands give let's say 10% of profits or 20% of proceeds because basically what that looks like to me is not enough. It happens all the time, too. Brands who are financially stable enough to be able to donate more give a very small proportion of the cost price – it happens every year with Pink Ribbon products. Slap a pink ribbon on it and hope that sales go up enough to cover the cost of the donation. Psh. That's marketing, not charity. 


However, let's support Lush, who have 145 shops in Japan as well as a 1,600 strong staff some of whom have lost absolutely everything. http://www.lush.co.uk/shop/product/product/id/1165/keyword/japan/japanese-aid
Transparency Disclosure
All products are sent to me as samples from brands and agencies unless otherwise stated. Affiliate links may be used. Posts are not affiliate driven.