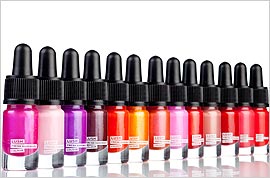 I'm quite looking forward to the new Lush make-up range, Emotional Brilliance. The twist is that the range is based on colour therapy and the set up in store will be quite revolutionary. The products (lipsticks, liners, eye shades, skin tints and mascara), will be displayed on a wheel that customers can spin to pick the three colours they are most drawn to as well as choosing words that describe their mood such as Confident, or Glamorous. 


I've explained it in very basic terms, but ultimately, your three shades are what Lush term as customized mood retailing on the premise that you will choose the shades that your mood dictates and wearing them may support your emotional well-being. Now, I am a believer that colours can lift your mood… in times of chaos, I crave white surroundings to calm, I'm addicted to orange.. I love wearing it, whether clothes, shoes or make-up and feel that for me it is a happy colour. I like the soothing nature of taupes, and it is a rare day that I would opt for super-confident red lips. But, you know, everyone has those bold days where red lips make us feeling enticingly glamorous and ultra-confident. Wear red on the wrong day and it makes you feel self-conscious, over-dressed and well, just all wrong. So colour and mood are definitely linked. 


It's a really bold step by Lush; I don't know whether it is a concept that generally will grab women, or even convince them that spinning a mood wheel or motivational words is the way to choose cosmetics, but I think the novelty factor will generate oodles of press and initial sales. It's only in the longer term, when consumers realise that the blue eyeshadow did or did not do anything for their mood that we will know if the concept of mood marketing has legs. 


Nice try though to bring something really different to the market. I think we will see this towards the end of July in the UK.. and as a heads up, the products will be very roughly around the £15 mark, so not cheap and cheerful stuff like their last make-up venture, Be Never Too Busy To Be Beautiful.
Transparency Disclosure
All products are sent to me as samples from brands and agencies unless otherwise stated. Affiliate links may be used. Posts are not affiliate driven.