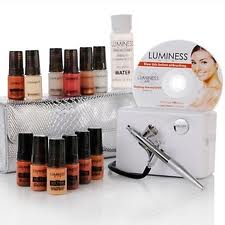 When it comes to anything vaguely technical I am the first to admit that I'm useless. So, I knew the Luminess Airbrushing system was going to present some challenges, but in reality, far fewer than I was expecting. So, firstly, what does it do? What Luminess promises is to make you look 10 years younger – ahem – by diminishing blemishes, wrinkles, fine lines, large pores, discolouration, patchy skin, acne, texture issues, dark circles and redness. Yeah, right. Let's just say that there is nothing about Luminess that can diminish acne or wrinkles, and I can't say that it took 10 years off me, but the rest is actually quite acurate. The system – once you get the hang of it – does give a 'flawless' look.
Luminess is actually much easier to use than I was anticipating; basically, held in the same way that you would hold a pen, the wand delivers a super-fine spray of foundation (so fine that you don't need to worry about your eyebrows disappearing and I didn't notice any in my hair – but my ear-rings did need a bit of wipe afterwards). If one spray isn't enough then you apply another. By choosing a foundation formula that is a perfect or a very close match, which is essential, it makes it quite difficult to tell how well the first application has gone because the effect is seamless. So, you can end up adding more than you actually need without realising. My first attempt was horrendous – I applied three sprays and then realised that I had managed to turn myself into a wax-work. And, did even worse with the blush – the colour doesn't seem to appear fully until the spray has dried on the face, so I was extremely pink! But, after taking all of it off and starting again with a much lighter hand, the effects were amazing second time round.
Using the airbrush system for blusher is probably the best effect. It really does blend so beautifully and looks as though it has been professionally applied – I would definitely use the system for blush applications in the future. There is also a liquid 'glow', and that again is very pretty – providing the formulas are compatible I would be tempted to use my regular foundation, spray the blush and then add a spray of the Luminess glow formula to brighten things up.
I would say, though, that if you have a lot a facial hair – even the very fine and downy kind, the foundation does catch it and that is a definite minus to this system. I'd also say the foundation made my skin feel quite tight and had zero effect on fine lines – but at the same time, didn't exacerbate them like some foundations and concealers can. I'm also not sure it is suitable for very dry skin; bearing in mind that my skin is well moisturised at the moment, and still feels taut under the formulations, I think it could well make things worse.
So, to summarise, Luminess isn't nearly as difficult as it looks – I got a very good result second time around so you do need to allow for a few practice runs. Once you get it right, you truly do get an immaculate finish – far better than finger or sponge applications, and a completely seamless blush effect that is beautiful. Luminess suggest applying your blush first and foundation over the top for an even more perfected look. The base does cover any 'flaws' or uneven skin, and once it's on your skin, doesn't transfer at all. There are far more pluses than minuses with the system, and if you are a flawless foundation fanatic, then you'll LOVE it!
It is also possible to 'contour' (I didn't even go there; I know my limits) and apply eye colours as well, which would be interesting – I've seen that done in demo and it looks incredible. There is also a bronzer, which if used sparingly would be a brilliant alternative to self-tan and probably a lot more flattering too. It's an investment at around about £180 (with formula starter kit) and you can find it online or at Selfridges.
Transparency Disclosure
All products are sent to me as samples from brands and agencies unless otherwise stated. Affiliate links may be used. Posts are not affiliate driven.