I've never been officially diagnosed with Seasonal Affective Disorder but I'm not sure I need to be to know that I am a completely different person in winter than in summer. In winter, my energy simply drains away. It's hard to get out of bed, all I want to do is sleep and basically, I go about my business with a heavy, dark cloud following me
.
I've noticed that this year it's coming back with a vengeance, probably because we had such a miserable summer, and from my Twitter timeline, I'm certainly not the only one.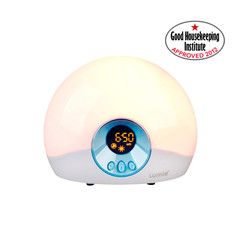 Last year, I experiemented with Lumie Lights, so thought it might be helpful for those also affected seasonally to know which I've used and how they've helped. My first Lumie was the Bodyclock, that simulates dawn, gradually getting brighter and brighter over a period of time until it wakes you up with an alarm. Actually, this is very hard to set – I had to get Mr BBB to do it as it was in danger of being hurled out of the window and it's a bit of a barrier, however, once set, the absolute joy of that light in the mornings is untold. I would wake with my face bathed in light when outside it was grey and dark. There is no doubt in my mind that it helps. My other tip here is to sleep with your curtains open – even just slightly – for as long as you can before there is no morning light. It does mean that on a bright day like today you might wake early but you will wake to more energy. I use Bodyclock really from about mid-November.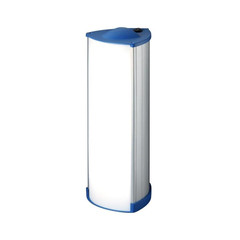 I also have the Bright Spark light for daytime – again I use it on grey days where the low light pretty much doesn't change all day. Lumie say you need it for half an hour a day but to be honest, I have it on until about 5pm when it feels more natural to settle into darkness. Bright Spark isn't pretty but it certainly fulfills its role. I also ensure that I get outside, no matter what – any scrap of light is better than none, and we're quite lucky in the UK that we do have cold, sunny days especially in January; I walk my dogs for an hour every day and have been known to bundle myself up with blankets and sit in the winter sun in the garden just to get as much light as I possibly can. Although I love my sunglasses; wearing them in winter can block a significant amount of light. Obviously, be sensible – you'll need them for driving and if the winter sun is strong, but try and have some time without them.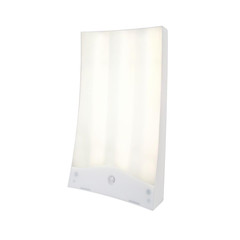 We've just bought the Lumie Brasil as a gift for someone who also finds winter very difficult and it's very impressive – so much so that I'm going to get that one as well. With three tubes it throws off a very bright light – enough to bathe a whole room and although you need to be sitting near the light, I'm going to have it in my kitchen so when I'm pottering about I am also getting the light incidentally. Other little things I do just to make things more bearable is use a fragrance such as Jo Loves Pomello that gives you a little olfactory boost – there are some fragrances that just make you smile when you put them on, so save those for days when you're really low just to put a positive spin on the day, and also a food treat – doesn't have to be expensive or fattening, but just something to that gives a glimmer of pleasure to be saved for really low days. They don't help with SAD as such but being kind to yourself with small things on bad days gives more of positive focus.
Finally, I am exploring the option of vitamin injections to help with SAD so will report back when I've had them. Lumie lights aren't cheap – Body Starter is £60, Bright Spark is £115 and Brasil is £150, but to be honest, they've been worth every penny. I can say hand on heart that they do help – they aren't the ultimate cure exactly but when you can barely move from exhaustion they'll certainly move you on to a place where you have enough energy to live your life better during winter. 
If you have to choose between which light to get, I'd opt for the Body Starter, followed by Brasil, followed by Bright Spark. Lumie is HERE
Transparency Disclosure
All products are sent to me as samples from brands and agencies unless otherwise stated. Affiliate links may be used. Posts are not affiliate driven.