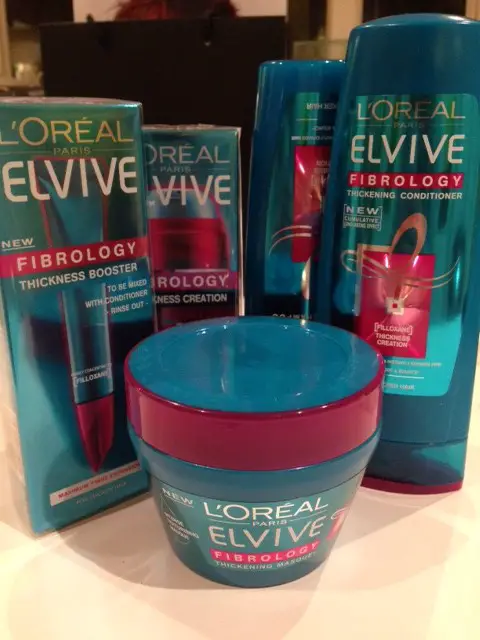 Okay, well I hardly know where to start with the science of this – it's complicated – so I'll only touch on it lightly, but what I can tell you is that there was so much interest in this range of thickening products it was actually released early. It's aimed primarily at those with fine hair that want it more manageable and thicker – it's not particularly indicated for thinning hair, I should note. My hair is actually much finer than it used to be – but then I always thought it was too thick – I thought I might try it on my fringe which needs to be more full and see what happens.
The key ingredient is L'Oreal built Filloxane and I suppose you could say it's like a dermal filler for hair. Filloxane is able to penetrate the hair fibres and actually stay there. While it's there, it expands the hair so the result should be thicker hair shafts. Sounds a little bit like magic, right? It takes several weeks for the full effect to be reached but if you stopped using Fibrology for a while, Filloxane would still keep your hair's fullness. It's supposed to be used on an on-going basis, so eventually you'd have to start the whole cycle all over again, but what it does mean is that you aren't tied into an every-use-counts system so if you want to change it up and use different products every now and again, it won't affect hair fullness.
So, the sciency bit: bear with me because I'm still getting my head around it, but it uses 'Sol-Gel' chemistry – a process of transforming liquid into solid in a moist atmosphere (commonly used for repairing cracked windscreens on cars). The way it's been adapted for hair use is create a solution where Filloxane molecules penetrate the hair fibre and form bonds within the hair shaft. As hair dries, the water evaporates leaving the molecules inside the hair fibres and consequently gives it more thick-hair like properties.
I feel confident, as one of the biggest L'Oreal launches of the year, that this is worth giving a go if you have fine hair. It's so new there really isn't much feedback on it, but if you're a user please do let me know how you get along. It's worth noting that on the L'Oreal Paris site, you can apply for a month's worth for free – I say, do it! The site is HERE. But if you think you're in it for the long-haul, it's stocked at Boots, HERE.
Transparency Disclosure
All products are sent to me as samples from brands and agencies unless otherwise stated. Affiliate links may be used. Posts are not affiliate driven.