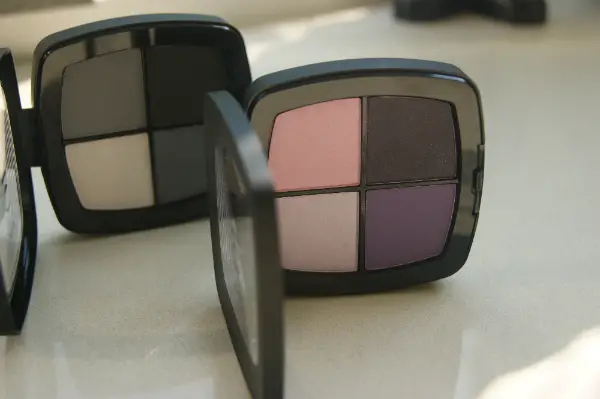 I've blogged a little bit about Lola before – it's a British brand made in Italy that's previously only been on sale in Spain (go figure!) and it's quite a young brand, too. I've had a chance to look more closely in terms of quality and pigment and actually, it's impressive. The range will launch into M&S Beauty (more about that later in the post) on September 26th and it is well worth checking out. The price point is high for a relatively unknown brand at £26 per quad.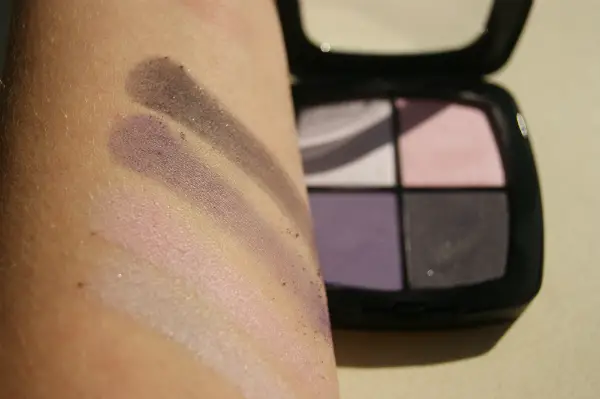 So, here's 003 – annoyingly, no name. But, it's a very pretty line up of gentle shades that are buildable -I think 003 is the smoky palette for people who aren't confident with smoky eyes – you can do a very gentle smoky with this or build it to a more intense level.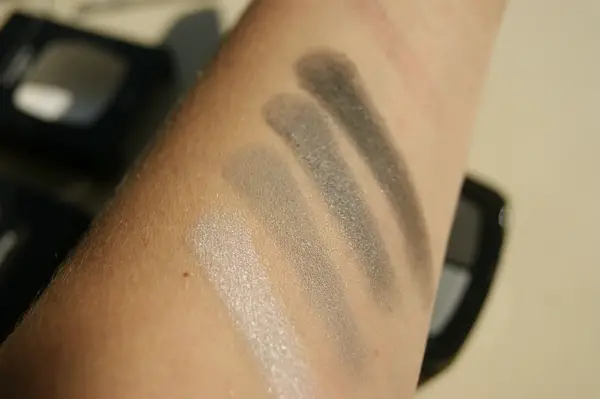 The darkest shade is shimmer shot with pink/purple twinkles but not too many – it's not a glitter eye thing, more suggestion of shimmer.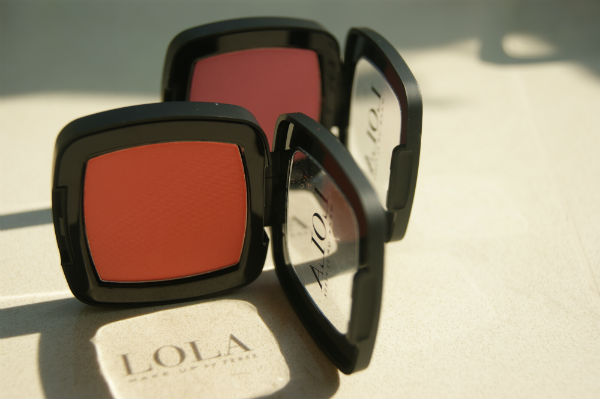 The Blush is well-pigmented, and again, starts quite gently so you can build to whatever intensity you want. Above is the inventive 001 (front) and 002 (back)! Come on Lola.. we'll name them for you if you're stuck! They're £14 each.
This is an interesting buy in for M&S Beauty because its not unlike Diego Dalla Palma – I'm not sure how two like brands will compete together, so we'll see. Of the two, Lola is the stronger I think but the price is too high for my liking, much as I rate the products.
M&S Beauty will have a hundred beauty departments by the end of October.. that's quite an accomplishment in a year and a bit. Who thought they could be a player in the beauty market? But they're gathering together such a good selection of brands that it will undoubtedly become a beauty destination. Recent acquisitions for M&S beauty departments include Bliss, Crystal Clear and REN so they're not doing this half-heartedly.
I've had a preview of next spring's advertising campaign for the beauty departments and they're SO young (although the imagery is beautiful).
According to Patrick Bousquet-Chavanne, Executive Director of Marketing and Business Development, having youthful models displaying a generic image of beauty doesn't affect how older women buy their beauty. But wait a second, Monsieur PCB, how can that possibly be when your average customer is 55 plus? All I can really pray is that they're not going to try and Lauder Marks and Spencers. Lauder is a great one for youthful visual displays to go with anti-ageing aimed at an older market, but I think if M&S want to keep their reputation as solid and trustworthy they should knock that one on the head soonish. That's the M&S backbone and it should apply across all areas; after all the beauty consultants (who I am told are excellent in their knowledge and advice) are not biased to any one brand which is why their advice is trusted. It does make you question whether the image M&S beauty is trying to portray – of youth and flawlessness – is equally trustworthy.
The whole point of M&S is that everyone can shop there – it's kind of FOR everyone – so don't forget that huge tranch of women who are are older that will make or break that beauty venture because they can be equally beautiful, too. The beauty industry is totally smoke and mirrors.. it would be my expectation that M&S wouldn't join in with this but create their own path that champions beauty in women of any age, any race, any colour and doesn't just show bland imagery of twenty-something women hovering over their anti-ageing skin care range.. like, er, Lauder does.
Transparency Disclosure
All products are sent to me as samples from brands and agencies unless otherwise stated. Affiliate links may be used. Posts are not affiliate driven.