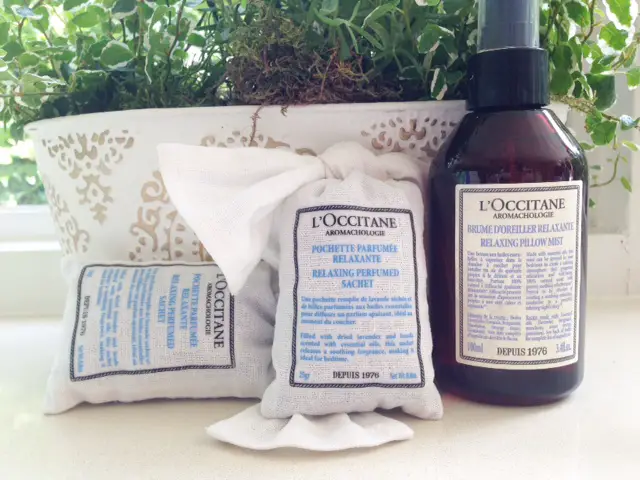 Oh, this is so lovely – I'm virtually sighing! Hang on til August for this scented range from L'Occitane to reach the stores and I can promise bliss (but only if you like lavender!). Aromachology is a *science* that studies how scent influences well-being so it makes perfect sense that it may be able to help you relax and maybe even sleep. After all, a wonderful perfume can make you feel a million dollars just because it's there, so as someone who suffers from sleep disruption from time to time, I'm heavily eyeing this range.
In the Bedtime Ritual (and I like that they plant the seed that you need some sort of ritual before bed because I think that really does help), there is a Relaxing Massage Body Oil (£14) which is the one thing I'm not that keen on because it relies on someone else to get the most benefit (I think massaging yourself can wake you up!). The other two products, though, I'm completely sold on – first the Pillow Mist (£14) and also the Relaxing Perfume Sachets (£8). Even if you don't want the Pillow Mist, occasional little whiffs of the scent placed under your pillow or on your bedside table are olfactory pings to relax.
So, what's in the fragrance? Five essential oils – Sweet Orange, Rosemary, Lavender, Bergamot and Mandarin – combined are, apparently the ultimate olfactory cue to chill. There is some science around this but I'm not sure any is needed as these are common relaxants, and the strongest smell that my nose picks out is the lavender.
I think if you suffer from difficulty relaxing or nodding off, it's not a stretch to think that the Bedtime Ritual will help – but a lot of what it can do is only possible if you get with the programme – L'Occitane Aromachology isn't the aromatherapy equivalent of Ambien. So maybe the most benefit comes from helping you get into a good bedtime routine – making the time to massage, spritz your pillow and inhale some relaxing aromathery oils…having the sleep message placed inside your head and topped up with trigger fragrances – do it for long enough and it will become the key to help you drop off.
There's also a Bath Ritual, but I imagine if you do both, you'd barely be able to turn your lights out! However, the Bath Ritual range includes Relaxing Bath Salts (£16), Relaxing Shower Gel (£14) and Relaxing Body Cream (£28) so you could create your own personal ritual by picking and choosing whatever suits you best from either line.
Transparency Disclosure
All products are sent to me as samples from brands and agencies unless otherwise stated. Affiliate links may be used. Posts are not affiliate driven.